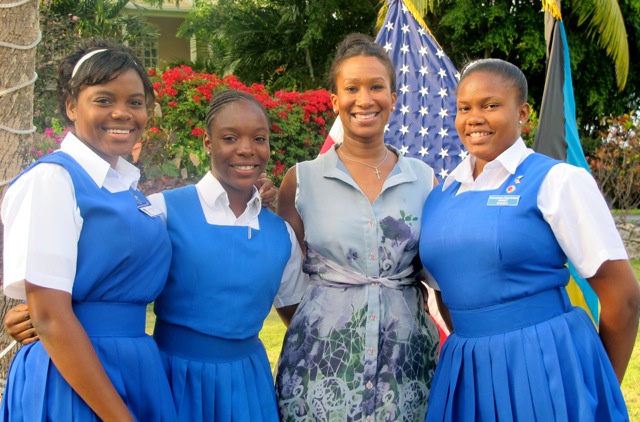 "Higher education opens doors not only to a career but to new inspiration.  College provides the opportunity to find what you are most passionate about, and to learn how to use your passion to better the world."  These were the words of encouragement that the United States Ambassador, Her Excellency Nicole A. Avant directed towards a group of over 150 bright, female high school students from across New Providence who gathered at her Liberty Overlook residence on February 16.   Ambassador Avant hosted the event to mark Black History Month as part of her longstanding commitment to promoting educational initiatives throughout the Commonwealth of the Bahamas.
The young women were selected by teachers, counselors and community leaders for the special event in honor of Mrs. Arlene Cash, the Vice President of Enrollment Management at Spelman College and Consul General for Atlanta, Katherine Forbes-Smith who shared information about a unique scholarship opportunity for one senior high school female student in Bahamas.  Ms. Cash provided details on Spelman's Bonner Scholars Program – a full four year scholarship with room and board for one high achieving female student from The Bahamas who has a passion for volunteerism and community service.
In addition to informing students of their eligibility for admission and scholarships, Ms. Cash conveyed the uniqueness of the Spelman College experience and the evolution of the Historically Black Colleges and Universities in the United States.  When asked about student life at Spelman, Ms. Cash shared the advantages of studying in a small school and the opportunities to build relationships with students and faculty.   She emphasized that the sense of sisterhood at Spelman is the impetus for the students' success.  As a testament to the positive impact of this environment, Ms. Cash proudly stated that Spelman produces the highest number of African American female medical school graduates in the country.  "If Spelman sisters ever falter from the path of excellence…their peers are there to bring them back," Ms. Cash told the group.
Spelman College is a four-year liberal arts women's college located in Atlanta, Georgia, United States.  It was founded in 1881 as the Atlanta Baptist Female Seminary, with 11 African-American women and $100 donated by a church congregation.  The college was named after anti-slavery activist, Laura Spelman Rockefeller (the wife of John D. Rockefeller) one of the school's earliest supporters.
Spelman College holds the distinction of being America's oldest historically black college for women.  Its mission is to promote academic excellence in liberal arts, particularly among African-American women as well as female students of any race, ethnic background or physical challenge.  More than 2,100 students currently attend Spelman from 15 different countries.
Spelman was recently ranked 59th in the 2011 U.S. News and World Report ranking of America's Best Liberal Colleges.  Notable alumnae include civil rights leader Bernice A. King; Pulitzer Prize winning novelist, Alice Walker; U.S. Ambassador, Ruth A. Davis; and news anchor and author, Shawn Robinson.  For more information about Spelman please visit the website at http://www.spelman.edu or contact Mrs. Arlene Cash at acash@spelman.com.