Will the JP for New Providence Rodney Moncur be committed to Fox Hill Prison for Contempt!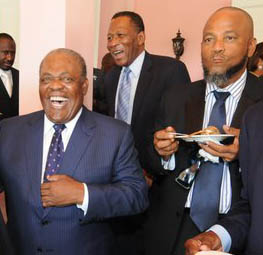 Nassau, Bahamas — Bahamas Press has learnt Hubert Ingraham's appointed justice of the peace and political pawn who welcomed him back to politics just days ago has lost a battle with the Bahamas Taxi Cab Union and has been ordered to pay cost in the action.
According to reports the case was filed in the Supreme Court by Moncur against the Union. However, he lost the battle and judgment in the case has been awarded to the Union in the amount of some $40,000.
Now this is interesting since Moncur never declared this debt on any form when he ran for the Bains and Grants Town Constituency in the last general elections for the DNA! Nor did he advise anyone in the Party or the Parliamentary Registrar on the ruling. This is indeed fraud and 'gangsterism' combined!
UNBELIEVABLE!

Sources tell us, "We cannot understand why someone so committed to his lord and master Hubert Ingraham, would not let Papa help him pay the debt seeing that he is all across the radio attacking the justice system, accusing the attorney general of all manner of falsehood, and is also turning his attack on the leaders of the opposition, all in an attempt to promote Hubert Ingraham. That sounds like a gangster hey?"
While on Gems Radio yesterday, Moncur went on a vile and ungodly attack on Dr. Hubert Minnis while constantly promoting Hubert Ingraham – the man who granted him his 'dollhouse' JP license.
Since Moncur has failed to pay the debt, we wonder when the attorney for the Union, Obie Ferguson, will file the matter and proceed with a Contempt hearing. Failing to adhere to the order of a judge could result in imprisonment and, for the first time in a long while, we could hear that a JP for New Providence is headed to jail.

Moncur was planted in the DNA to spy on the Party for Hubert Ingraham, one source tells us, and was known to have regularly reported to the former Prime Minister on the daily happenings in the organization.
The Taxi Cab Union is now on its back and could use every dollar it can find. The $40,000 now owed to them by Moncur could come in handy.
We report yinner decide!