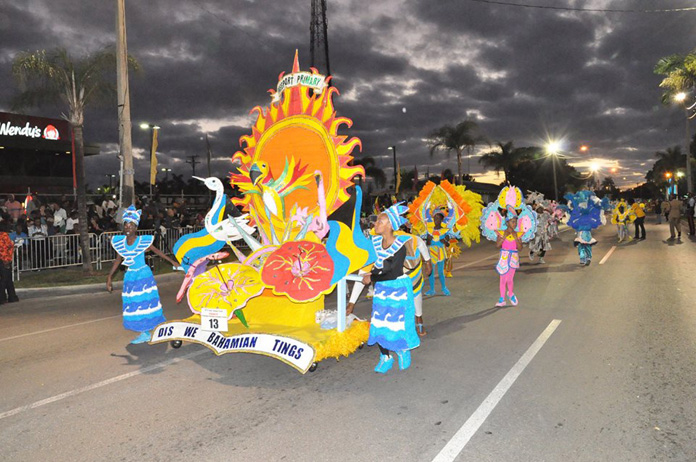 Nassau, The Bahamas – On December 9th, 2017, the Ministry of Youth, Sports and Culture – in conjunction with the National Junkanoo Committee (N.J.C) and title sponsor SOL Petroleum Bahamas Ltd. — hosted the Junior Junkanoo Parade at Arawak Cay.
Due to extreme weather challenges, the parade was shortened. Twenty-two groups were scheduled to participate in the parade. However, only 19 participated. While all of these groups performed, they were not all able to be judged due to the inclement weather.
In light of these events Ministry officials, the N.J.C., school representatives from New Providence and the Family islands – via conference call – were invited to a meeting held at the Ministry of Youth, Sports and Culture on Monday, 11th December.
From the discussions it was determined to implement the weather policy, which exists for Senior Junkanoo Parades, for all future Junior Junkanoo Parades. Further, a Junior Junkanoo Fun Rush will be held at Arawak Cay and will be open to the public at no cost, Friday, 15th December 2017, at 3:00pm. The Parade will be open to all schools that were registered in the Junior Junkanoo program.
The All Age, Pre Schools and Primary Schools were judged comprehensively and the winners were determined. However, the outcome in the other categories could not be determined, due to the weather challenges that prevented a few groups from being judged. Therefore, it was collectively decided that all groups in the junior and senior categories will be recognized for participation and excellent team spirit.
The Ministry of Youth, Sports and Culture recognizes the tremendous sacrifices made by our students, teachers, parents, sponsors and their entire support team. We share in their disappointment and identify with their competitive spirit that desires a clear cut winner. We deeply appreciate the willingness of all the schools to discuss how to move forward. It was this spirit that allowed us to decide on the best course of action under the circumstances. The Ministry of Youth, Sports and Culture and the NJC are committed to working together with all partners to ensure successful future parades.
The Ministry of Youth, Sports and Culture in partnership with the NJC wishes to once again thank our title sponsor SOL Petroleum Bahamas Ltd. for 30 years of sponsorship and investment in our youth. We also extend heartfelt thanks and appreciation to all Ministry staff, school administrations, parents, teachers, volunteers and, of course, our talented Bahamian students without whom this spectacular national expression would not be possible.