Former Prime Minister of Bahamas to lead Commonwealth Observer Group for Mozambique elections – Ingraham will now began culturing democracy across Africa…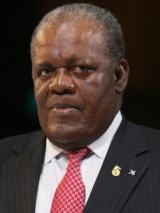 6 October 2014 – Commonwealth Secretary-General Kamalesh Sharma announced today that the Commonwealth will observe the National and Provincial Elections in Mozambique on 15 October. This follows an invitation from the National Electoral Commission of Mozambique.
Rt. Hon. Hubert Ingraham, former Prime Minister of Bahamas, will lead the Commonwealth Observer Group.
The Secretary-General said: "These elections are being held at an important juncture in the history of Mozambique, particularly following the signing of a peace agreement one month ago. Conducting credible elections is a collective strength of Commonwealth member states, and our Charter recognises 'the inalienable right of individuals to participate in democratic processes, in particular through free and fair elections in shaping the society in which they live'. It is our hope that these elections will consolidate the democratic process in Mozambique. The Commonwealth will be present to witness and observe them, and to work in partnership with Mozambique towards strengthening and embedding good practice."
Mr Sharma added: "The responsibility for conducting elections with integrity falls on all concerned – from the election management body, to political parties and their leaders, to civil society, security agencies, the media and the voters themselves. Each and every one has a rightful role to ensure a credible process and outcome."
The observer group will consider the pre-electoral environment and election preparations. On Election Day, it will observe the voting process, vote-counting procedures and the announcement of results, in the light of international standards for democratic elections, to which the country has committed.
As with all Commonwealth Observer Groups, this mission will function impartially and independently, and will conduct itself according to the standards expressed in the International Declaration of Principles for Election Observation, to which the Commonwealth is a signatory.
The Commonwealth Observer Group to the 2014 National and Provincial Elections will submit its report to the Commonwealth Secretary-General, who will in turn send it to the Government of Mozambique, the National Electoral Commission, Mozambique's political parties and eventually to all Commonwealth governments.
The 15-member Commonwealth Observer Group will be in Mozambique from 9 to 21 October 2014. A six-member Commonwealth Secretariat team will support the Group, led by Martin Kasirye, Adviser and Head of Electoral Support.
Composition of the Observer Group:
Chair:
Rt.Hon. Hubert Ingraham
Former Prime Minister, Bahamas
Mr Michael Maley
Electoral Expert, Australia
Ms Dorothy Limunga Njeuma
Former Cabinet Minister and Board Member of Elections Cameroon, Cameroon
Mr Kenneth Abotsi
Technical Advisor, SADC Regional Peacekeeping Training Centre, Ghana
Dr Shahabuddin Yaqoob Quraishi
Former Chief Election Commissioner, India
Ms Wyvolyn Patterson
Journalist/Media Expert, Jamaica
Ms Lilian Mahiri-Zaja
Vice-Chair of Independent Electoral and Boundaries Commission, Kenya
Mr Giovanni Buttigieg
Electoral Expert, Malta
Ms Elaine Trepper
Former Mayor, Windhoek, Namibia
Mr Ken Nnamani
Former Senate President, Nigeria
Ms Aasiya Riaz
Deputy Director, PILDAT, Pakistan
Ms Maiava Visekota Peteru
Former Member of Parliament, Lawyer, Samoa
Ms Papama Nomboniso Gasa
Researcher and Analyst on Gender, South Africa
Mr Gerald Karuhanga
Member of Parliament – Youth, Uganda
Mr Henry Hogger
Former Diplomat, United Kingdom