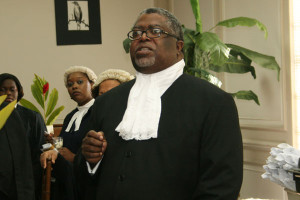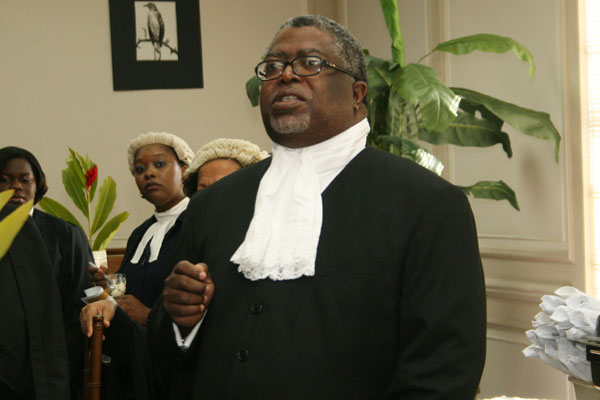 Nassau, Bahamas – Those of us who are followers of wonderful Caribbean literature would remember a song by Luta, a West Indian songster who penned the line in music, "'There is no truth in Justice and no Justice in the Law!" The line is remarkable to say the least, and when we follow up this latest story on the Lodge on the top of Blue Hill Road, the song came to mind.
Yesterday, Masons gathered in the Chambers of the Chief Justice Sir Michael Barnett, to hear the case submitted by one, Geno Nairn, against the former Grand Master, Carl Culmer.
Nairn, a 33-degree Mason, is seeking Justice against the former 'VICKED' Grand Master, who had dismissed a number of lodge brothers for sweet hearting. Readers would remember while the 'sweethearters' have been penalized and expelled from the organization, the men in their midst who lotion themselves down and bend on their knees night and day – not for prayers – were not reproved by Culmer. That's life for 'ya eh'?
Former Chief Justice Cyril Fountain represented the lodge. However, before the case could get started Monday morning, Sir Michael Barnett had a statement to make.
Sir Michael began by informing the parties that he could not hear the case, and without explanation recuse himself from hearing the matter. He abruptly informed the parties that the matter would be reassigned, and like a bat out of hell, he quickly left the bench.
Bahamas Press finds these bat cave style actions by Sir Michael to be cockeyed and cowardice to say the least. How could the CHIEF JUSTICE OF THE LAND, refuse to hear a matter – the first to its kind in The Bahamas – and suggest reassignment? And to make matters worse, fail to give an explanation for his decision!
The least the Chief Justice could have done was to give an explanation as to why he cannot hear the case. Now how does this look on paper? Someone flashes a sign before the Chief Justice and BAM! Like hocus – pocus, the case vanishes right before our eyes. Boy, the world is one damn 'vicked' place 'eh'?
No one is above the law! Not the Prime Minister, not the Chief Justice and certainly not Carl Culmer, who parades around this country like the mayor; giving Justice a black eye!
Now we must wonder who is Sir Michael Barnett?
"'There is no truth in Justice and no Justice in the Law!"
We need CHANGE!