MINISTRY OF EDUCATION – Teacher of the Year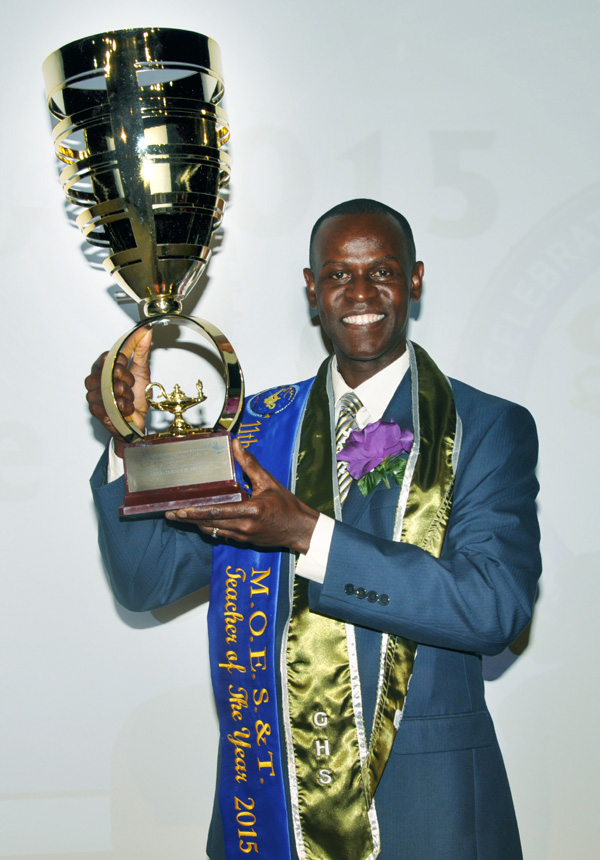 Nassau, Bahamas — Veteran teacher, Mr. Yonell Justilien of the Government High School in the Southwestern District of New Providence schools, won the award for the 2015-2017 National Teacher of the Year on Saturday, 28th March, 2015 before an audience of hundreds at the Atlantis Theatre (Photo by Edgar Arnette).
Under the theme, "Celebrating Quality Teachers, Recognizing Pathways of Excellence", forty-seven educators were honoured for exceptional performance in the teaching profession during the 2015-2017 11th National Teacher of the Year Awards. After months of planning, the Ministry of Education, Science and Technology, in conjunction with The Bahamas Union of Teachers, showed their gratitude by hosting teachers in celebratory activities from Wednesday, 25th March, 2015 to Saturday, 28th March, 2015.
Before an audience of hundreds at the Atlantis Theatre on Saturday, 28th March, 2015, Mr. Yonell Justilien, a Performing Arts educator at the Government High School, captured the prestigious title of National Teacher of the Year. Mr. Justillien, a veteran teacher of twenty-four years, said that it was a joy for him to be recognized for something he is passionate about, which is teaching and teaching the performing arts. He encouraged his colleagues to do all that they could for the betterment of their students. Mr. Justilien paid tribute to his fellow nominees and declared, "If it was up to me, all of us would have gotten the same prize because all of us share in molding each child that comes our way. It is important for us to keep this drive going and just identify the talents of our kids. The most important thing we can do is steer them in the right direction so that they can know their calling and purpose in life." Justillien has himself secured fourteen scholarships for his students at tertiary institutions abroad between 2012 and 2013. He thanked the staff of Government High School, Colours Junkanoo Group, AMBASSAH Band, The Bahamas All Stars Marching Band, the National Teacher of the Year Awards Steering Committee and his family for their love and support. He ended his winners' response by saying, "I give God the glory for the success that I have experienced throughout the years".
Teachers who were runners-up for the title were Mrs. Ramona Wells of C.H. Reeves Junior High School, first runner-up; Mrs. Keniqua Burrows of L.N. Coakley High School, second runner-up and Mrs. Theresa Turnquest of H.O. Nash Junior High School, third runner-up. The winner and the runners-up received cash prizes, complimentary hotel reservations, gift certificates, professional development grants and trophies.
District Winners were chosen from the eleven districts represented. They were as follows:
1. Mrs. Nadia McDermott, Abaco District;
2. Ms. Sharon Scott, Eleuthera District;
3. Mrs. Keniqua Burrows, Exuma and Ragged Island District;
4. Ms. Danique Moxey, MICAL District;
5. Mrs. Stephanie Higgins, East Grand Bahama District;
6. Mrs. Danicia Dean-Campbell, West Grand Bahama District;
7. Ms. Marlene Benwell, North and Central Andros and The Berry Islands District;
8. Mrs. Trivea Skippings-Culmer, Northeastern District (New Providence);
9. Mrs. Theresa Turnquest, Northwestern District (New Providence);
10. Mrs. Ramona Wells, Southeastern District (New Providence) and
11. Mr. Yonell Justillien, Southwestern District (New Providence).
The National Teacher of the Year nominees received prizes for special awards at the ceremony based on their performance in particular categories. Mrs. Theresa Turnquest of H.O. Nash Junior High School won the prize for Best Video. Ms. Audra Tynes of R.M. Bailey Senior High School won the prize for Outstanding Contributions to Education. Ms. Tynes has published two books, 'In Times Like These' and 'Givin' Em Somethin' to Think About' that are on the reading list for high school students. The prize for Professional Development Activities went to Ms. Samantha Wilson of Gerald Cash Primary School. Mrs. Tarinda Thompson-Rolle of C.R. Walker Senior High School received the prize for Teaching Proficiency, while Mr. Arnold Martin of Jack Hayward Junior High School in Grand Bahama took the prize for Outstanding Contributions to the Community on a Family Island. Mr. Martin is the Founding President of Men of Honour Association, an intervention program for boys; Men of Honour Mountaineers Basketball Program; More Than Just a Dream Project; School Lunch Box Program and has authored the book 'The Long Road To…'.
Interestingly, during the previous National Teacher of the Year exercise, two sisters, Ms. Nadia Smith and Mrs. Nadine Smith-Worrell competed for the title and Ms. Smith was successful in winning. This year a husband, Mr. Sherado Gibson of Cleveland Eneas Primary School and his wife Mrs. Anishka Gibson of Woodcock Primary School were both vying for the title. When asked how they felt to be competing against one another for the award, Mr. Gibson said, "To be honest, I never quite viewed it as me competing against her. We were simply just blessed and honoured to have been selected by both of our schools at the same time. It was exciting because we were able to share in all of the festivities together. I was rooting for her and likewise she was rooting for me." Mrs. Gibson stated, "I never saw it as a competition between me and him because we share and collaborate on everything related to teaching. Actually, I saw it as God's way of showing divine favour and a double portion of blessing upon us. I truly valued the experience and especially having to share it along with my husband".
Minister of Education, Science and Technology, the Honourable Jerome K. Fitzgerald was present at the awards ceremony and brought remarks. The Minister spoke of the nobility of the teaching profession and how it is the one profession where one person can literally impact the lives of thousands of individuals. He noted that, "Teaching is a calling. There is not much glamour or public recognition for the hard work, sacrifice and hours you put in to giving your students every opportunity for success. Often times it can be very lonely, but the rewards of student success quickly clear the mind of the challenges and the road to individual or collective success of your students". Minister Fitzgerald thanked the forty-seven Teachers of the Year for upholding and exemplifying good character; displaying competence in their subject areas; having genuine care and concern for their students and for being concerned about the future of our country and its place in this region and the greater   world.
In her farewell speech, National Teacher of the Year 2012-2014, Ms. Nadia Smith reflected with appreciation on the engagements that she attended and the timely exposure that helped her to uncover and polish many skills while challenging her to tap into reservoirs of new knowledge. She thanked the organizers for seeing the significance of recognizing and rewarding our outstanding educators, the C.C. Sweeting Senior High School Family, stakeholders of the event, her family members and friends for their support during her tenure. To the Teachers of the Year for 2015-2017 Ms. Smith said, "I proudly salute you for your noble and courageous service. You are indeed stellar educators who confidently accept and overcome the daunting challenges of today. Your efforts have not been in vain! Continue to be the winds of change beneath the wings of our children as you inspire and uplift them toward a glorious and rewarding future. Continue to seek knowledge for self-improvement, and embracing technology to remain relevant, while implementing strategies and methods that will stimulate the minds of our youth".
Special selections in tribute to the honourees were made by the Royal Bahamas Police Force Pop Band, the Albury Sayle Primary School Choir and the C.V. Bethel Senior High School Boys Chorale.