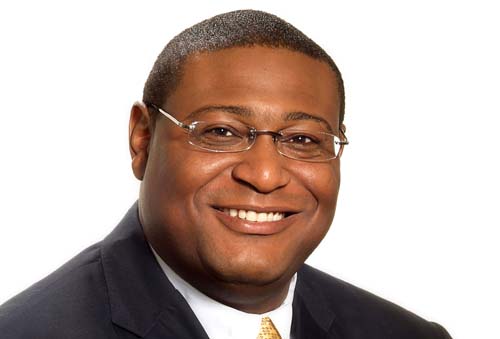 Kenyatta Gibson, MP for Kennedy.
The Member of Parliament for the Kennedy constituency has today formally announced that he has now joined the parliamentary team of the Free National Movement. Gibson is one of many young PLPs who has left the PLP party, exactly one year ago (Jan. 9th, 2008), where he referred to Christie in a press statement as a, "… washed up, has been, egotist may as well claim that he created the world in seven (7) days, as it is clear from his release that he fancies himself on god of sorts."
In his statement last year Gibson added, "So as to make it clear I wish the record to reflect that Perry Christie is no longer fit to lead the Party of Pindling, Butler & Hanna. He is arch-mediocrity, captain of all things small and petty, master of all things which are insignificant and void. He is best described as the man who is an expert at using shallow words dressed up in glittering phrases. His word and promises count for nothing!Mr. Christie, let me offer you some advice that most of your Parliamentary colleagues speak of privately behind your back. They are the words which Cromwell uttered to an English Parliament, "You have sat too long here for any good that you have done, Sir! Depart I say, and let us have done with you! In the name of God, go!"
Gibson was also known in the Parliament for his LOUD war of words on Hubert Ingraham, where he pointed often to Ingraham's wicked words of "SHAME" TOWARDS THE BAHAMIAN PEOPLE IN 2001 during the Referendum.
Gibson was also the MP behind a Cabinet fist fight where he went on national radio and denied the incident ever occured, yet details of the repairs to furniture in the Cabinet Room was later confirmed.
But a highlight we foremost remember of Gibson came during a row in 2005 in the House with then South Andos MP Witney Bastian, where Gibson threatened to drop his pants HOUSE FLOOR to PROVE A POINT TO BASTIAN.
The row caused Mr. Bastian to reminded the House that he was acquitted by a court of "trumped up" drug charges.
"I can understand his frustration of knowing his budget presentation of last night and this morning could either be his last or next to the last as the Member of Parliament for the Kennedy constituency," Mr. Bastian claimed in the House.
"Secondly, I am sure that his constituents did not send him to Parliament to back door their concerns by complimenting this government to the point where it becomes nauseating, odious and demeaning to those with dignity."
Mr. Gibson, who then served as Chairman of the Gaming Board, immediately fired back shouting, "You speak of dignity?"
"You need to be concerned about what your constituents sent you to Parliament to do and stay out of my business – I told you that before," Mr. Gibson continued.
Undeterred, Mr. Bastian continued his response to the Kennedy MP.
"A real man will simply state the needs of his people…," he said before once again being interrupted by Mr. Gibson.
"Anytime this member is ready I'll show him who a real man is. I'll show him who a real man is right now," said. Mr. Gibson. "I'll take my belt off for you."
Many PLPs, FNMs and citizens throughout the country wondered at the time what the House of Assembly was coming to? And now we at Bahamas Press wonder where it is headed now that two strong opinions sit within the FNM!
The PLP needs a LOUD voice like a Kenyatta Gibson, The FNM today has a GREAT SPEAKER, BUT with the SHARP, ATTACKING, LOUD, INDEPENDENT VOICE LIKE GIBSON, WE COULD ONLY WONDER, HOW LONG WILL THIS LOVE AFFAIR LAST WITH THE FNM.
In a statment Gibson noted that he has notified the speaker of the House of his decision and will communicate his decision to the House when it convene this month.