GUILTY, GUILTY, GUILTY!!!! Cheers Erupts in and out of COURT following verdict!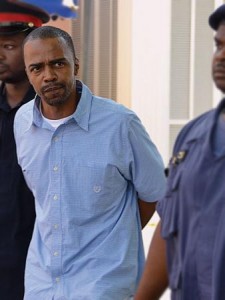 Nassau, Bahamas — KOFHE Goodman, the 37-years-old suspect of murder, is now a convicted criminal. Tonight a jury found him guilty in the death of young Marco Archer.
The 11-year-old Archer, a former Columbus Primary School, vanished after going to a shop to buy candy. He never returned home.
Prosecutors told the court tonight they would seek the death penalty for Goodman.
Many Bahamian feel that this crime – where the child was violated and burnt beyond recognition, is indeed THE WORST OF THE WORST!
Goodman's response following the verdict was: "That's all."
But before leaving the courtroom the convicted man attempted to jump out of the prisoner's box and hurl himself out to attack prosecutors. But before he could be successful a swarm of police officers grabbed Goodman. He then spat at the jury as he left the courtroom. WHAT A POSSESSED MAN!
Goodman has another case of a young child where it is alleged he abducted before the Marco Archer disappearance.
Young Marco Archer, of Brougham Street, was murdered between September 23 and September 28 of 2011.
We report yinner decide!