Vessel was built in 1992 and we wonder if it passed inspection…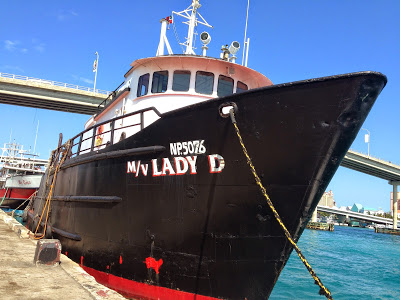 Islanders now need a new vessel for shipping needed supplies into Andros community…
Nassau, Bahamas — BAHAMAS PRESS is reporting the sinking of a vessel at Potters Cay Dock.
We can confirm the sinking of the 'Lady D' in the harbour.
Sources have confirmed the pump stopped working and almost immediately the ship was under water.
BAHAMAS PRESS wonders when was the last time the ships at Potter's Cay that carry cargo and passengers to the family islands were inspected.
Suppose they were out in the hungry ocean? What a loss….
M/V "Lady D" serves the Central Andros / Fresh Creek & Staniard Creek route. The Lady D has he has been serving Central Andros since 1976. The first "Lady D" was built around 1979/1980 and the second (this one) was built in 1992.
We report yinner decide!