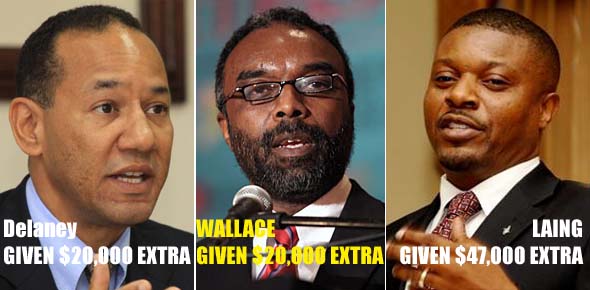 Laing LIED to the Nassau Guardian and to the Parliament of the Bahamas! He took home a whopping Forty-Seven Thousand Dollars ['$47,000] extra !!!!
Nassau, Bahamas — Information is at this hour pouring into Bahamas Press like the great Niagara Falls and, from what we know, Zhivargo Sean Laing must resign from the Senate or be fired by Dr. Hubert Minnis – if he gat the balls to do so – as the former Minister of State has misled Parliament and the Press.
Just over a week ago [Monday 18th June], the former Minister of State for Finance told The Nassau Guardian that an additional six thousand dollars [$6,000] paid to him was as a result of the Government's decision to pay additional sums to all persons living outside of New Providence so they could carry out Ministerial duties in the capital. He captioned that payment at the time of the report as "Housing Allowance".
But this was not true and was a lie told by Laing.
According to former Minister of Housing, Kenneth Russell, all Ministers living outside of New Providence were paid a housing allowance of three thousand dollars per month. This was an additional thirty-six thousands dollars a year in addition to the $99,000 take home pay given to Laing, which was far more then the $93,000 paid to Phenton Neymour, Loretta Butler-Turner and former MP for Pinewood Byron Woodside – who got his sex toy stolen from him just before the elections.
Now this is serious. This is damnable and proves that Hubert Ingraham managed the most corrupt operation in the country's history when it comes to finances and the public's money. Here's why we make that claim.
According to a former Minister, who is bitterly angry over the situation, argued that no one in the Cabinet knew of the extra kickback paid to some Ministers over others and, from documents shown to us by this former Minister, the details are chilling and you can see for yourself below.
Information shared with BP and now you, the general public, by the angry former Minister confirms that Hubert Ingraham abused the public purse, and, by extension, has broken the law when it came to the expenditure of the public funds.
The scheduled circulated by the former Minister confirms that the former Prime Minister, Hubert Ingraham, paid Laing a personal allowance of six thousand dollars [$6,000] over all other Ministers of State and a Housing Allowance of thirty-six thousands dollars a year [$36,000] which ultimately brought his salary up to a whopping One Hundred and Thirty-five Thousand Dollars a year [ $135,000], more than any Junior Minister or Cabinet Minister who resided not on a family island.
The claim made by Frank Smith was denied by Laing last week, but now the real data is out. Laing, according to that former Minister, was paid the funds.
But there is more.
Bahamas Press can also confirm there is evidence to prove a naked abuse of the purse and a breaking of the public trust by the former Prime Minister.
Laing's colleague Minister and former AG, John Delaney, was paid an additional Fifteen thousand-five hundred dollars according to the schedule now published by Bahamas Press.
And when we thought that was the end of it, we uncovered the fact that Senator Vincent Vanderpool-Wallace, who is under an investigation for granting a scandalous advertising contract to a foreign shell company, was also paid a personal allowance of Fifteen thousand five hundred dollars when he sat as Minister of Tourism.
What is glaring in this is the fact that Ministers with greater responsibilities were paid less than Laing, who was only a junior minister.
The hardcore FNM former Minister is screaming foul tonight and is telling Bahamas Press, "I never thought I would live to see the day that Papa showed how dishonest he is with other people's money. He raided the cookie jar for Zhivargo Laing and led us like fools."
But here's the cliffhanger: guess who the former Cabinet Minister is who handed BP this data?

We report yinner decide…