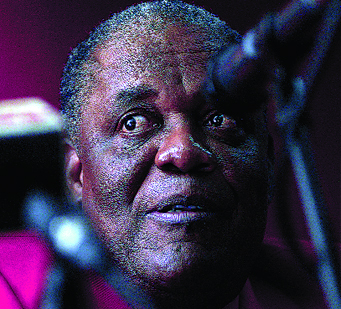 <<< Hubert 'MUGABE' Ingraham. Photo by the Nassau Guardian.
Letter To The Editor
Dear Editor,
We write to articulate the views of virtually thousands of citizens and residents in Grand Bahama over the expanding dominance of Hutchison Whampoa in the Grand Bahama community. Their track record is abysmally poor in such vital interests as the Airport Company, the Harbour Company, the Development Company and Our Lucaya.
We are acutely aware of their neo-Colonial management style and their record of repression by the parent company and their firm desire to transfer such repression here.
We are informed that it is their declared intention to acquire full ownership of The Grand Bahama Port Authority Group of Companies, so that they can inextricably entrench themselves in Grand Bahama Island with a view to amass enormous profits from the blood and sweat of our countrymen, while lowering wages and benefits and generally retarding the socioeconomic advancement of Bahamian employees.
The record of The Grand Bahama Port Authority is not without blemish. In fact, a great deal of adverse criticism has been directed toward that organization over the fifty four years of its existence. However, no one can deny that on balance its virtue far outweighs its vices and without its presence undoubtedly, Grand Bahama would still be a back water town.
Indeed, we take this opportunity to thank and commend Sir Jack Hayward and Mr. Edward St. George (God bless hi s soul) for their excellent efforts in improving the welfare of Grand Bahama and making Freeport the Magic City is proudly continues to be.
Then came Hutchison Whampoa and things changed radically and on the negative side. Sir Jack and Mr. St. George were approachable. They had an open-door policy, sympathetic to all and sundry. In their quiet unassuming way never failed in doing the best they could for this island. In fact, they together with Bahamian Executives Sir Albert Miller and Albert Gray performed admirably in this town and brought joy to the hearts of thousands.
No one can deny that Hutchison Whampoa's investments contributed in no small measure to the further development of Freeport, especially in the area of job creation. Some would say that they brought more pain than comfort. We do not say that, but we are not at all impressed with their modus operandi. Of late, it has become increasingly important to question the role that Hutchison has played in the stagnation of Grand Bahama's economy. Was this the master plan all along? Hutchison has made Container Port workers casual labourers and union-busted. They have not properly marketed the major hotel on the island, Our Lucaya, and have not given any serious consideration to other investors. So we ask the question, is it an attempt to collapse the economy and then ride in on white horses to pick of the pieces?
Unfortunately, the Port Authority unwittingly made some strategic boo-boos when it relinquished control of vital interests such as the Airport, Harbour, the Development Company and Grand Bahama Power Company to Asian enterprises. These companies operate with rigid policies of long hours, minimum pay scales and hardly any fringe benefits in their home base, and they obviously want to do the same thing here. T hey believe in hoarding and reinvesting as little as possible.
A clear example of this is Hutchison's behavior in the Grand Bahama Development Company of which they own fifty percent, but since this acquisition, they have done very little in development, and have put the price of property and the subsequent service charges out of range for the average Bahamian. We ask what they are doing with the land.
Then there is the fifty percent ownership of the Harbour Company in which they control with an iron hand. In fact, we are informed that they have seized every opportunity to fire, intimidate, or otherwise ostracize Bahamian employees.
Then there is their fifty percent obstructionist ownership in the Airport Company. In fifteen years, they have only facilitated one development and this was forced because of the destruction of the old terminal in a hurricane. One is forced to ask why costs to the public are the highest in the hemisphere. Why won't they lower the costs to make the facility more competitive and thereby make the Grand Bahama destination more attractive? [ BP's Free Anniversary phonecard PIN: 5897 5004 0331 ]
About fifteen years ago the Sea Air Business Centre was introduced, and since that time there has been one business operating, without much success.
Finally, there is Our Lucaya which we readily admit is somewhat of a white elephant. Everyone knows that this company was highly reluctant in making this investment and only did it as a spin-off of its major investment, the Container Port. The company pays little attention to it and could care less if it fails that is why it hardly does anything to advertise or otherwise promote this fine hotel.
Hutchison is an arm of the communist Chinese propaganda machine, no less than the Chinese efforts universally promote its agenda and expand its socio-economic tentacles world-wide.
All one has to do it to examine the construction of the Sports Complex in New Providence to see how the Chinese think. In short, they know it all and do not trust people like Bahamians.
Since China is more on the world stage, its stooges, such as Hutchison, need to get certain things through their heads:
You cannot arbitrarily just pur chase The Grand Bahama Port Authority. Bahamians will not allow this. We are tired of monopolistic controls.
Your track record is abysmally poor. You have not supported Bahamian development in any meaningful way. This is glowingly evident in your poor record of contributions to cultural affairs.
You have done little or nothing toward touristic development in this country. It seems that your venture in Our Lucaya is just a camouflage for your real motive, which is to eventually control the economy of Freeport and Grand Bahama, and perhaps the entire Bahamas if you can get away with it!
Then there is the departure of key Bahamian personnel like Raymond Jones who obviously saw the hard hand of blockage from your corporate bosses.
We, the proud successors of a proud Bahamian legacy say "enough is enough Hutchison Whampoa." You have already abused us enough. We are not going to stand by idly and let you exert your control over our island. You will never be allowed to acquire any further interest in The Grand Bahama Port Authority. Trust us, it will never happen! If you want to exert your influence then go elsewhere. For example, back from whence you have come! Not here to Grand Bahama! Not ever!
And finally, to the Government of The Bahamas which includes the Loyal Opposition, if you allow a travesty like this to happen, you should hold your weak heads down in shame, and figure out how this will be explained to future generations of Bahamians!
Signed
A PROUD BAHAMIAN