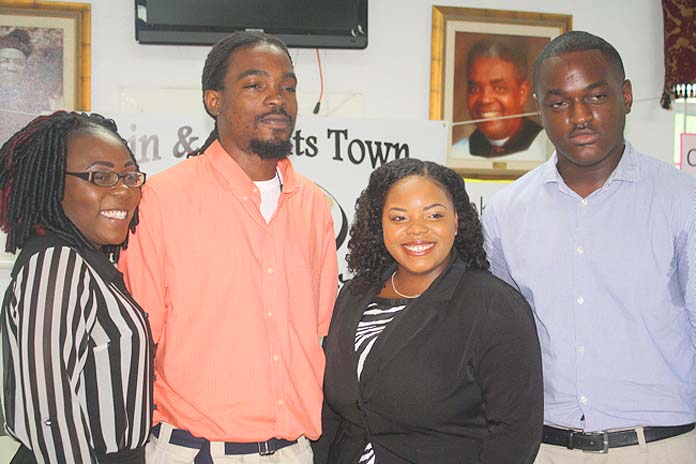 Nassau, Bahamas – The Bain and Grants Town Scholarship Fund has made it possible for four residents of that community to now have the financial backing to complete post-secondary pursuits.
The announcement was a culmination of what has been described as a "laborious process" in which 17 candidates were meticulously examined. Nine candidates were shortlisted, interviewed by a panel of six governors and then narrowed to the four successful applicants.
The recipients are Michael Clarke, who will study towards a Bachelor's degree in Accounting at The College of The Bahamas (COB); Nadia Esteve, an Associate's degree in Accounting, Galilee College; Vandeco Stuart, certificate, Electrical Installation, The Bahamas Technical and Vocational Institute (BTVI) and Terwaashna Robinson, Associate of Applied Science degree, Office Administration (BTVI). Michael and Nadia's scholarships are partial while Terwaashna and Vandeco's are full. Speaking on behalf of the recipients, Terwaashna expressed how important the scholarship is to her.
"Words cannot begin to describe the joy that I feel. This opportunity is a life changer for me and a dream come true. I am finally able to receive a college education that I have so dreamt of since I completed high school in 2004. This scholarship gives me the opportunity to elevate my current situation which would enable me to provide a better life for my son and me," said the 28-year- old.
Terwaashna noted that she has always had the drive for higher education, but the financial backing was a challenge.
"Now I have the means and a golden opportunity – thanks to The Bain and Grants Town Scholarship Fund. As for my fellow recipients, although we may all lead different lives, have different circumstances and have different feelings of what this scholarship means to each of us, one thing for certain is we are all extremely grateful," she underscored.
The Board's vision is 'To ensure that the door of opportunity is opened to deserving residents of Bain and Grants Town who demonstrate a willingness to learn and excel, but who cannot afford the cost of higher education.'
The scholarships' three major sponsors include BTVI, John Bull and Minister of National Security and Bain and Grants Town Member of Parliament, Dr. Bernard Nottage. Minister Nottage, who went to high school and university on scholarships, said the scholarship presentations meant a lot to him.
"For me, this is a special moment. This is not the first time I have helped with scholarships, but if more of us can find a few dollars to put aside, there are a lot of smart people in Bain and Grants Town. Many have the potential, but don't get the opportunity for it to be developed," he stated.
"I feel elevated. I think they are very good examples of what could come out of Bain and Grants Town," said Minister Nottage.
A few weeks ago, the minister met with the recipients after they were selected and said based on the conversation, he is satisfied they are focused. He was particularly pleased that two of them are males.
Minister Nottage advised the board to not wait until the end of a semester when grades are published, but to periodically check in with the recipients.
The minister then made good on a $10,000 pledge he publicly made in February at the initial press conference announcing the fund. He presented the cheque to the treasurer, Christof Fox.
Director of Business Development at John Bull, Inga Bowleg added that her company's $10,000 donation is a part of its corporate social responsibility.
"It lies at the core of who we are. We believe we should celebrate youth and support youth development," said Ms. Bowleg, before encouraging the awardees to do well. Additionally, Chairman of the Bain and Grants Town Scholarship Board of Governors, Assistant Superintendent of Police, Anthony Rolle, said the scholarship offering underscores the board's commitment to investing in the nation's youth and subsequently, their future.
ASP Rolle said the awardees represent the positive side of the nation's youth.
"All too often the public focuses on the negative aspects of our young people and their activities, but as we pause to celebrate these young people who are on their journey to continued personal development, we are reminded of BTVI's mission which is 'To provide learning opportunities that enable individuals to be globally competitive and economically independent,'" he stated.
BTVI's president, Dr. Robert W. Robertson, acknowledged that unfortunately, many inner city youth are discouraged from pursuing their aspirations because of lack of funding. However, the scholarship board's focus solely on residents of Bain and Grants Town, opens a door of opportunity.
Dr. Robertson, who is a former city planner in Canada, lauded the board for doing its part to change the perception of the historic community.
"It is clear you want to see change in Bain and Grants Town…this initiative is a feather in the cap of the scholarship board. Investing in these young people is certainly one of the BEST investments you can make. We believe the dividends will be tremendous for this community and ultimately the country, as we at BTVI are charged with closing the workforce skills gap," he stated.
Dr. Robertson added that it is commendable recipients are expected to perform community service within the area.
"Essentially, you will be giving back and helping to build a better Bain and Grants Town. You will be agents of change in Bain and Grants Town – an area that needs you," he stated.