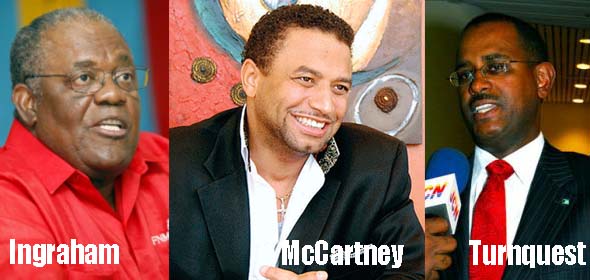 By Fred Moss
What is now taking place within the F.N.M. can easily be turned into a blockbuster movie or a # 1 best selling novel.
Like a pack of rabid Pitbulls, the F.N.M. has began to eat it's young. Bran McCartney, the once ' Blue Eyed ' boy of Hubert Ingraham has bolted the party taking with him a healthy chunk of the F.N.M. support base.
As it look now, McCartney has dealt the F.N.M. a fatal blow, for the first time in twenty five years Hubert Ingraham is now hearing the death rattle of the F.N.M….It was one thing for a few blacks from over the hill to jump ship but he's now faced with seeing some of his beloved ' whites' and former U.B.P.s not only following McCartney, becoming candidates, but funding his campaign as well.
The question is, what do all of this mean for the F.N.M., " Are they now approaching the Valley of Death "? Not being satisfied with having taken away a part of the F.N.M. support base, word on the streets is that McCartney is now moving in for the kill
Based on reports, a number of F.N.M. Meritorious Consul Members, former Cabinet Ministers and two ( 2 ) sitting Cabinet Ministers want to see Hubert Ingraham and Zhivargo Laing gone they hold these two most responsible for Bran having left the F.N.M
It would appear, that a large number of F.N.M.s are no longer prepared to sit by and watch Hubert Ingraham destroy the party that Cecil Wallace Whitfield built. Facing certain defeat if he stay on as Leader of the F.N.M., it would seem that Hubert Ingraham has become irrational, he now trust no one, not wanting to be on Hubert Ingraham's bad side and have their meal ticket taken away, some local generals has put aside their man-hood, and is now saying the Chief "Een me chief…I een one a dem, I wit you".
Not being one to lay down and die or give up easily like a raging Pitbill, Hubert Ingraham is now going for Bran McCartney and any one else who stand in his way Jugular…his surrogates have already started on the social networks sites to defame not only Bran McCartney but his would-be candidates as well. Like carnivores, the F.N.M. is now eating it's young.