Roberto Williams is the victim!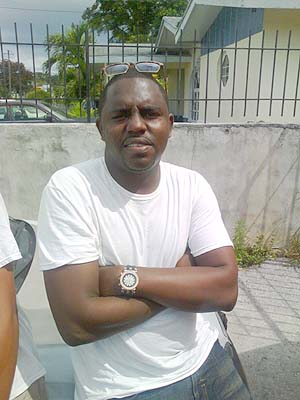 Nassau, Bahamas — Bahamas Press has now attained footage of that shooting east of the Sadie Curtis Primary School on Tuesday morning, which took the life of Roberto Bonamy Williams AKA Bow.
Live cam recorded the victim sometime around 8am about to leave his home and had just walked to empty the garbage at his residents when two gunmen walked up to him and opened fire.
Williams was on bail for two murders, and most recently on August 10th was held then released by police following the murder of BTC employee Jamal Hyler.
Hyler you would remember was gunned down at Roosies; a breakfast trailer in Oakes Field.
Williams was the boyfriend of FOAM President, Khandi Gibson. She, just days before the murder of Hyler's death, had organized an anti-crime protest in Rawson Square. No one showed up for the event. She told the WUTLESS MEDIA the turnout was indicative of Bahamians' "all talk, no action" attitude.
"This is why I tell persons, all Bahamians good for is beating up our mouths on Facebook, text or What'sapp, but when it's time for us to stand united, no one comes. The other day we were in Rawson Square for a peace protest, because we were sick and tired of being sick and tired and no one came."
All we at Bahamas Press ga say is this; WE Bahamians may look dumb, but we ain't stupid or fool! And we are smarter than plenty people think!
Meanwhile police have released the identities of the country's recent homicide victims.
Rakeem Rashade Austin dob 24.09.94 Williams Lane matter happen on Friday 11 September 2015 at Shady Tree St
Julian Antoine Stuart dob 05.05.92 of Jumbey Street Pinewood Gardens. Murder on Saturday 12 September 2015
Brian Trevor Francis Jr dob 29.05.93 of Montrose Ave reference murder Mt. Royal Avenue 14 Sep 15.
We report yinner decide!