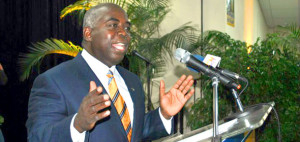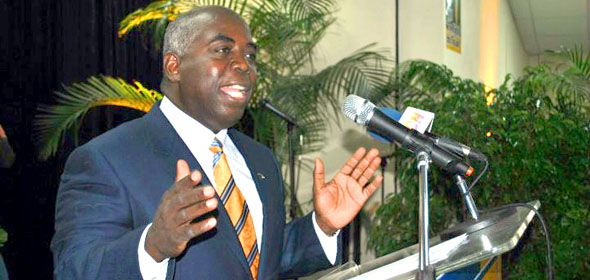 PHILIP BRAVE DAVIS
Freeport Grand Bahama
Friday Jan 27th, 2011
Are you Ready Grand Bahama?
The time is near. It is here Grand Bahama. The day of decision is upon us.
Mr. Party Leader …
Team Grand Bahama! Are you READY NOW!? I asked you if you are ready?
Good…I hope you are ready because them no good fellas trying hard to swing you again!
They are trying so hard that a few weekends ago they brought you a big circus!
Did you see it?
They had balloons…they had music…and they had a double-potion of clowns!
Of course, the biggest clown of them all was Hubert Ingraham – I call him PAPA Clown!
Papa was in his usual form, cackling and laughing like a Cheshire cat, while thousands of Bahamians suffer!
Scores of Bahamians do not have jobs…
Scores do not have electricity in their homes…
Scores have lost their homes…
Thousands can't put food on the table.
Things are that bad, really bad; meanwhile, the leader of the country comes with jokes!
This outgoing FNM Government is going to soon find out that Bahamians will not be fooled!
Bahamians can see past those stale one-liners!
They can see past the blatant untruths and barroom attacks!
And you, Grand Bahama, know Ingraham too well. You remember that great promise in 2007 to appoint a Minister for Grand Bahama Affairs? Did he deliver?
And you remember the promise by the FNM to restore Grand Bahama to its glory days? Did he deliver?
Papa said in 2007 many jobs will come on this island…you tell me, did he deliver?
Where are the jobs Papa Clown?
Do not be tricked by the FNM, as they seek to escape responsibility and distract from the facts.
That's their plan…Distract and Run!
If you don't believe me, tell me where can I find Zhivargo Laing?
For more than four-plus years, Zhivargo Laing, MP for Marco City, was one of three Grand Bahama Ministers in Ingraham's Cabinet who remained disgracefully silent while Ingraham totally neglected Grand Bahama.
Laing is running …. Bannister is running…Butler-Turner is running…Neymour running…Collie running…and those who are not running are jumping ship all together.
They are jumping off that sinking ship!
So when you see them again, ask them why they run?
Tell me why they run!
They are running from you? They are running from the shabby way that they treated you and the thousands of other Bahamians.
There's no question that Ingraham's disregard for Grand Bahama during these past five years cannot go unchallenged.
Remember now, they told us how much of that money they got from the Zopak and South Riding Point sale. "I gat the money!"
Ask them, how much of that went back into the Grand Bahamian economy?
How much of that went back into this island to save jobs?
How much was used to protect small businesses?
How much was spent on the Grand Bahamian people in the form of tax breaks and benefits to encourage investments?
They took from you Grand Bahama and never looked back and that is why I ask you to GIVE US FIVE MPs THIS TIME.
Give us the team that will fight for Grand Bahama!
Give us four men and a brave woman who will look after your best interest on day one, from day one all the time and not just at election time.
The FNM has no plan for Grand Bahama.
Their answer to everything is blame the PLP!
Someone needs to remind Hubert Ingraham that HE has been Prime Minister for the past 5 years
He has Prime Minister for 15 of the last 20 years!
True leaders take responsibility. This mess is Hubert's mess.
In the PLP we have no time for silly political games. People are hurting.
Grand Bahama needs real leadership. Grand Bahama needs the PLP!
It is time to make Grand Bahama grand again.
It is time to put people back to work.
It is time to stimulate economic activity.
We believe our greatest resources lie in people.
This is the difference between them and us.
We are committed to investing in YOU!
Grand Bahamians, we can do it and we are ready NOW!
We are ready to govern.
We have the plans and programs to move our economy forward and point it in the right direction.
Grand Bahama tonight, I pledge that the PLP as the next Government of The Bahamas will work for you.
We are ready to revive Grand Bahama.
We vow to raise work permit fees for jobs Bahamians are qualified to perform.
We will establish a program to identify Bahamians who are qualified to fill jobs when work permits that are now granted expire.
We are committed to putting Bahamians back to work!
We will significantly cut taxes at the airport and Harbor.
The PLP will reduce hotel taxes by 50%, for a period of five years for existing hotels and 10 years for new hotels in Grand Bahama.
You can hold us to that. . We are serious about bringing about a rebirth on this island.
Your next PLP Government will promote local entertainment on Grand Bahama.
We will provide incentives and technical support for restaurants, nightclubs, local craft markets and support to develop bed and breakfasts lodgings.
We will awaken this magic city.
Further we pledge to provide incentives and subsidies for airlift of tourists to Grand Bahama, including targeted scheduled flights and charters for the provision of airlift for seasonal and event-related tourism.
Your next PLP Government will upgrade the Grand Bahama Island Promotion Board, to improve promotion of Grand Bahama in international markets.
It is Grand Bahama's time!
The PLP is committed to extending duty free concessions to East and West Grand Bahama.
And Grand Bahama, there is so much more to be unveiled for you.
You have to decide Grand Bahama. The decision rests in your hands.
Not long from now you will be called upon to decide which future you seek for you and your children.
You must decide whether you want to continue on the FNM's path of job losses and failed opportunities.
The better choice is the PLP with plans for job creation and empowerment that will put you first!
Grand Bahama, I urge you tonight to come home with the PLP!
Come with us as we set a course to Put Bahamians Back to Work!
Come with us as we point young Bahamians into an era of prosperity and growth!
Come with us as we build our nation and restore Opportunity to the thousands of our countrymen and women!
Come with us as we restore JOB OPPORTUNITIES back into this economy and new business opportunities for all our people.
Come with us, and send Tanisha Tynes, Julian Russell, Gregory Moss, Michael Darville and Obadiah Hercules Wilchcombe to Parliament! [RING THE BELL HERE]
Come with us!
BELIEVE in the Bahamas as we in the PLP believe in you!
PLP
PLP
PLP
Thank You, Grand Bahama, and God Bless …