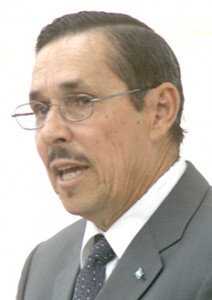 Long Island, Bahamas — Bahamas Press is projecting a political bloodbath in Long Island as MP, Larry Cartwright, shall fall whenever the next general elections are called.
We reported over the weekend the disaster facing the FNM in that constituency as polls project now a win for PLP candidate Alex Storr. But there is more news happening right now in Long Island, and it is more devastating that we thought!
Upon direct instructions by Prime Minister Hubert Ingraham, Cartwright called a constituency meeting in an attempt to get his campaign off the ground. On Friday past the meeting was called and what happened is indeed shocking.
BP can confirm apart from the Minister only two FNM generals from Long Island showed up at the meeting. Not one polling representative showed up, not one general, not even the Chairman of the FNM Constituency Association was in attendance.
The incident has left FNMs in Long Island bewildered at the NO SHOW event.
One Long Islander told BP, "We are going with Storr for Sure! For years the FNM believed if a hog ran in the constituency we would elect it. And while Abaco gets water and decent roads, we must battle with the potholes and buy salty water. Long Islanders will not have it anymore and for the first time in a long time we going for the Gold."
All attempts to reach the offices of Larry Cartwright were fruitless up to press time.
We report, yinner decide!
LONG ISLANDERS ARE TELLING THE FNM INCLUDING LARRY CARTWRIGHT "GOODBYE"!