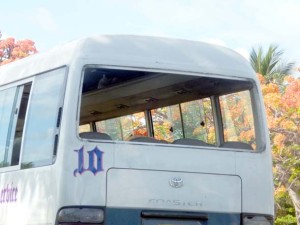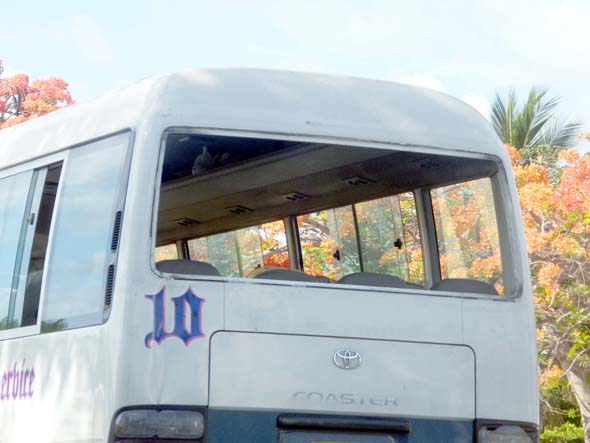 Nassau, Bahamas — This was the condition of a number 10 bus, which traverses the Cable Beach area. Could you imagine what guests are saying about the Bahamas when they see buses like this approve to drive the streets? Fuming toxins; clouds of black smoke at their every trail?
BP spotted this bus yesterday and all we could do is hang our head down in shame and look for the camera. The back glass was out, open for all to see inside and perhaps climb into the back to enter. One must wonder who in the hell does inspect these vehicles. And how could a bus enter the downtown area and pick up guests in this kind of condition.
Bahamas Press calls for the minister of transport, Vincent Vanderpool Wallace, to ACT and STOP having his regular case of VERBAL DIARRHEA! Look what TOURISTS are riding in when they come to Nassau! This looks like a buggy NOT A BUS!
Come one mannnnnnn, let's fix the tourism product and get these LOUD MUSIC, 'DINGY', 'DUTTY', BLACK SMOKING, broken light, beat up, soiled public buses off the damn road!
Oh and get that public bus off the road, which flying the Haitian coloured flag while ya at it. SMMMMMT….WHUTLESS FOREIGN GOVERNMENT!