Long Island MP doesn't possess the temperament and good judgement to lead The Bahamas…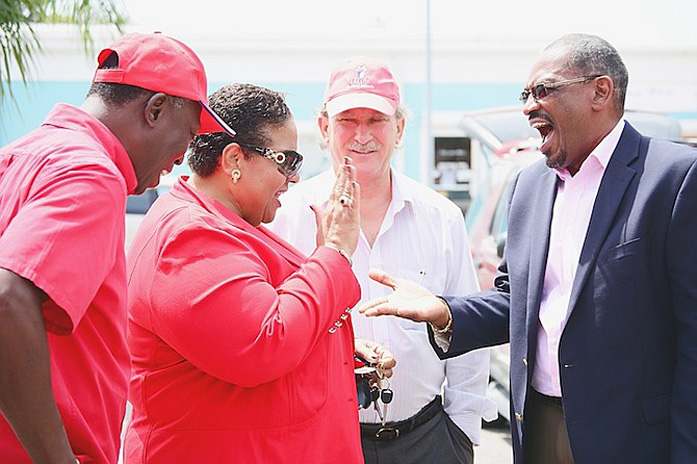 By Jerry Roker
for Bahamas Press
A couple of years ago, the FNM Long Island MP, publicly slapped her now political colleague, the MP for Ft Charlotte. This singular act set tongues to wagging as to what behaviour or action of Ft Charlotte that could have provoked such a response from Long Island.
Dr. Andre Rollins is an agent provocateur and there are many who hold the view that what he refers to as passion is nothing more than the absence of civility. There are yet others who felt that he got his "things" and that his comeuppance was long overdue. However, the violent display between two of our country's supposed leaders is unacceptable. Indeed, Dr Rollins had no right to put his hand on Mrs. Turner, another man's wife, and, even worse, proceed to whisper in her ear. His actions were totally disrespectful and inappropriate.
Having said that, as someone who has made no secret about her desire to become Prime Minister, she ought to have walked away. What a class act that would have been!
PM Christie is the most abused Prime Minister we have ever had! Not a day passes without the morning tabloids and others opposed to him, heaping venom and scorn upon him. And what does he do? He jumps out of bed every morning, and puts his best foot forward on behalf of the Bahamian people. We may not always agree with his style or methodology, or even his policies, but by dam, this man gat class!
Fast forward to now. Mr. Tennyson Wells, a one time senior cabinet minister in a previous FNM government, is now alleging that during the 2012 general elections campaign in Long Island, Mrs. Turner used language not befitting someone of her ilk, against him. He further alleges that she and her husband attempted to run him of the road! Well blow me down!
Loretta Butler-Turner is a Member whose behaviour has frequently come under the microscope, particularly as Speaker Kendal Major has rightly warned her on repeated occasions. Furthermore, Mrs Butler-Turner makes some of the most ridiculous utterances in Parliament, mostly while seated.
Based on the above, it is my view that Long Island doesn't possess the temperament and good judgement to lead The Bahamas.