A BP NEWS ALERT >>> The 55 year-old male alleged drowning victim is now identified, and Shopbreaking suspect arraigned pleaded GUILTY!!!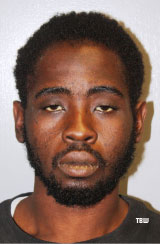 Bahamas Press has confirmed that Grand Bahama Police have brought shopbreaking charges against one Demetrius Keenen Sejour, age 23 years of Fawcett Lane, Grand Bahama. He was arraigned before Magistrate Debbye Ferguson in Magistrate Court #1 on (4) counts of Shopbreaking, (1) count of Attempted Shopbreaking and (4) counts of Stealing from a Shop.
He pleaded guilty to all charges and was sentenced to (4) years and (5) months at Her Majesty's Prison in New Providence.
This report we can tell you was in connection with a number of Shopbreaking incidents which were reported between January 2014 and April 2014 in the Down Town area of Freeport, Grand Bahama. CASE SOLVED!!!
BP can also tell you that drowning victim on Grand Bahama has been Identified. Police in Grand Bahama have identified the 55 year old male who reportedly drowned while in the canal on Xanadu Beach on Sunday April 13th as, Chester Bethel, of #11 Almond Road, Pioneers Loop.