Man went to ATM was robbed shot and killed. Suspect FLED SCENE…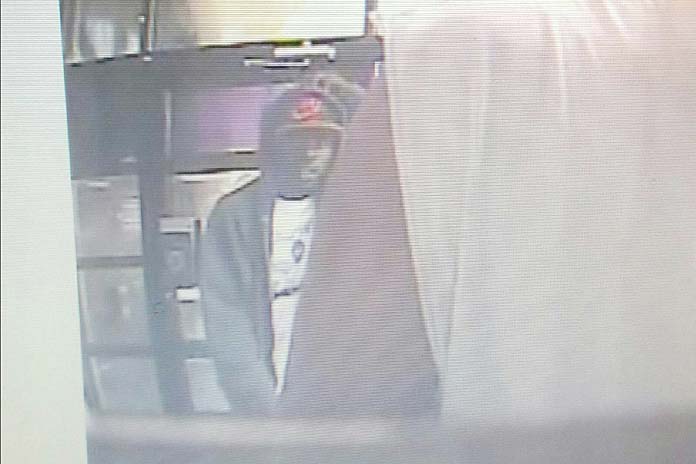 Nassau, Bahamas – Police Selective Teams and ground operations are underway in search for this shooter, which caught him before he fatally shot a man inside the Jerome Ave. Scotia Bank facility this morning.
Bahamas Press has not yet identified the victim.
Police tell us the victim was making a regular ATM visit around 8am when a gunman approach then shot him fatally inside the bank. The suspect fled the scene.
Sources tell us the suspect on the run is this man shown above.
We have posted a photo of the alleged shooter, and we pray someone can identify him urgently calling the police.
Meanwhile, police are also following several robbery incidents overnight.
In the first incident, shortly after 9:00am, a woman was attempting to make a deposit at a bank on Shirley Street, when a man armed with a handgun approached her and robbed her of a deposit bag containing cash. The man then fled the scene in a Honda CRV vehicle license number 216616.
In the second incident, shortly after 4:00pm, a man was sitting in his taxi at a location off Yamacraw Hill Road, when two males armed with handguns approached and robbed him of cash before fleeing in a grey Nissan vehicle.
In the third incident, shortly after 7:30pm, two men armed with handguns robbed a convenience store located on Malcolm Road of a small amount of cash before fleeing on foot.
Then around 10:00pm, a woman was in front of her home located on hospital Lane, when three males armed with handguns approached and robbed her of her blue 2007 Suzuki Liana car license number188743 before speeding off.
In the final incident, shortly after 10:00pm, a woman was sitting in her 1996 Toyota Corolla car license number 131210 in front of a home located on Bellot Road, when three men in a white Nissan car armed with handguns approached and robbed her of her vehicle before speeding off.