MEDICAL MISSION PLANNED FOR BAHAMAS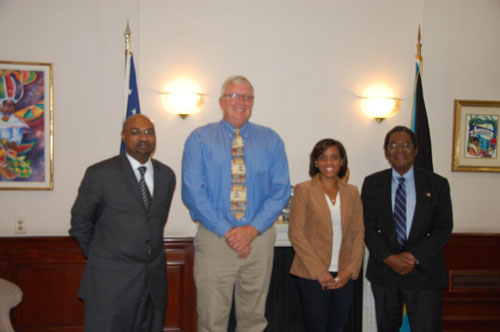 WASHINGTON, D.C. — The Bahamas is set to benefit from a medical mission being organized by the Paul Chester Children's Hope Foundation (PCCHF), a registered 501c3 charity based in Washington, D.C., that "provides medical assistance to children and families in developing countries, giving them a chance to live productive lives through well-conceived medical interventions."
Dr. Bill Chester, co-founder of PCCHF, outlined initial plans for the mission during a meeting on Friday, November 1, with His Excellency Dr. Eugene Newry, Bahamas Ambassador-Designate to the United States, and Mr. Chet Neymour, Deputy Chief of Mission, at the Bahamas Embassy, 2220 Massachusetts Avenue, N.W., Washington, D.C.
He was accompanied by Dr. Philippa Davis, a Bahamian on the staff of Inova Fairfax Hospital, who is assisting him in organizing the medical mission.
Dr. Chester noted that he conceived the idea for the mission to The Bahamas after he found out a couple months ago that the government was building a hospital in Georgetown, Exuma, where he has property, and after visiting the island and seeing the hospital under construction, he concluded that it will be a "first-class hospital and we can definitely do some good work down there if there is a need."
Detailed plans for the mission are being developed and on the advice of Dr. Newry and Mr. Neymour will be formally presented to Minister of Health Dr. Perry Gomez.
According to its website, PCCHF medical experts "perform reconstructive surgery (i.e. club foot and cleft palate repair, burn scar revision, ear tubes, eye surgery, etc.) and work to arrest preventable, curable diseases (e.g. trachoma, glaucoma)."
"The Foundation provides highly specialized medical assistance to individuals and families in developing countries where such services are unavailable due to logistics or economic circumstances," the website notes. "The Foundation harnesses the expertise of medical professionals and local agencies to identify opportunities for maximum social impact, and then funds and completes the medical or surgical interventions deemed most viable."
The website adds: "The PCCHF core base is made up of volunteers — both medical and administrative, which vary from 50-200 in any given year. On the organizational side, the small group is made up of 5-7 dedicated individuals who meet regularly to discuss, plan and pilot missions. Our medical volunteers coordinate, and execute the missions with the assistance of logistics volunteers and in-country counterparts who have requested our assistance.
"A typical mission takes place over ten days with a team of medical professionals and organizers in collaboration with officials from the host country. The number of surgeries performed is directly linked to funding, number of volunteers and the capacity of the local hospital.
"For example, a 2003 mission to Ecuador resulted in 110 successful surgeries, with a team of 20 foreign medical volunteers. Safe passage for supplies and staff was provided by the Consul General and the First Lady of Ecuador. The medical procedures provided largely addressed disfiguring conditions that have a tremendously negative impact on the livelihood of the afflicted individual."
The Foundation was co-founded by Dr. Chester and Roxolana Kuzmak in 2004 "to honor the memory of Paul Chester, whose tragic death at age 16 cut short a life determined to help those less fortunate."
"Paul's last days were spent in preparation to accompany his father, Dr. Bill Chester, on a medical mission," the website notes. "The Paul Chester Children's Hope Foundation was established to honor the spirit and passion of this remarkable young man, and to sustain the vital work that Paul had hoped to accomplish in his life."
Further consultations and discussions on the medical mission are expected to take place over the coming months.