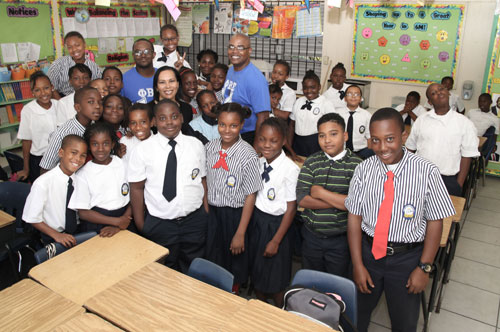 NASSAU, Bahamas – Members of the International General Board of Phi Beta Sigma Fraternity (PBS) along with local brothers held an interactive reading session with over 600 students at Oakes Field Primary School.
"Phi Beta Sigma is an international organization founded on the campus of Howard University in 1914. In this, our Centennial year, we are proud to bring our educational service initiative to the Bahamas," said 34th International President of Phi Beta Sigma Fraternity Incorporated Hon Jonathan Mason.
Brothers from as far away as Hawaii read to the homeroom classes at the school as a way to promote literacy among young people.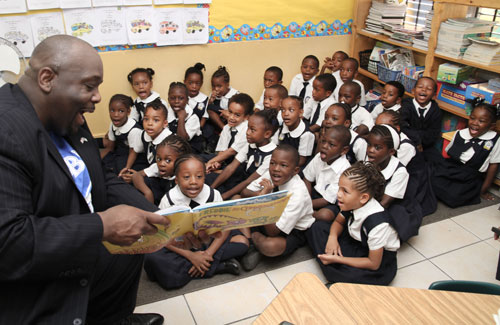 "Literacy is important to developing our nation and it was our intent to excite young people about reading," said State Director for the Bahamas Gerrard Sawyer. Sawyer added that for The Bahamas to have the honour of hosting our fraternity's General Board speaks volumes for not only the work that is being done here in the Bahamas by the local brothers but also the draw of the country as a premier tourism destination.
Another component of the joint service initiative included planting a native tree to assist the eco-schools programme at Oakes Field which is facilitated by the Bahamas Reef Environment Educational Foundation (BREEF), PBS and the school.
"We are working diligently with BREEF to create meaningful connections between youth, education and the environment," said Derek Smith president of Delta Epsilon Sigma chapter. He added, "By systematically addressing literacy concerns and exposing youth to environmental platforms, we are directly combatting criminal elements and promoting an environmentally conscious society. The citizens we are hoping to develop through our service initiatives should be educated, aware of our natural habit and prepared embrace or create opportunities for a better Bahamas."
Brothers of the oldest Greek Letter Organization at the College of The Bahamas – the Beta Beta Lambda Chapter of Phi Beta Sigma also participated in the project and the general board meeting.
"This once in a lifetime experience to meet and talk with the fraternity president and board members here in my own country was truly a memorable occasion for me and the brothers at The College of the Bahamas," said Mick Massaar.
State Director for Collegiate Affairs in The Bahamas Brother Christopher Saunders said the collaboration with the general board and the local collegiate brothers is very significant.
"It was special for them to be a part of this meeting and service project for two reasons," said Saunders, "the fraternity as a whole is celebrating its centennial (100 years) and Beta Beta Lambda is celebrating 10 years at the college. So for the oldest organization at COB to celebrate with the hierarchy of the fraternity, in our country, is impressive."
The General Board of the fraternity was holding its annual meeting here in The Bahamas at the British Colonial Hilton and it's the first time the meeting was held outside of the United States in 100 years.