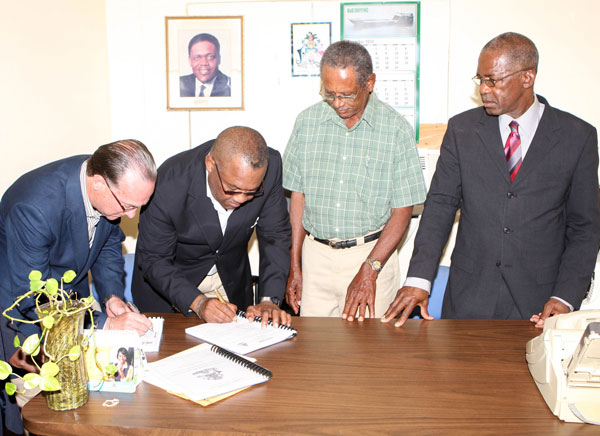 Eleuthera, The Bahamas – The signing of a contract for the reconstruction of the dock in Hatchet Bay will bring "relief" to the residents of that Family Island Public Works and Transport Minister the Hon. Neko C. Grant said.
Minister Grant signed a contract totalling $170,000 with Austin Knowles Construction Co. Ltd for the reconstruction of the dock during a stopover visit there on March 14. Accompanying Mr. Grant on the visit was Colin Higgs, permanent secretary; Dion Munroe, project engineer and Shaun Lightbourn, assistant engineer.
Among those in attendance at the signing ceremony held at the Government complex in Hatchet Bay was the Hon. Alvin Smith, MP for North Eleuthera, administrators Stephanie Rahming and  Cunningham, Local Government officials and residents.
Mr. Grant said he was "delighted" to return to Eleuthera with a view to further enhance public infrastructure. He said the dock has sustained damage as a result of hurricanes and through extensive use over the years.
Mr. Smith recalled that in past years the dock was utilised by fishermen, tourists and residents for various social activities.
He said the dock has remained in a state of disrepair since it was  severely damaged in 1965 by Hurricane Betsy and in 1992 by Hurricane Andrew.
"I am happy today that we are going to witness the rebuilding of that dock that is long overdue. I believe that by having that dock that it may spark the interest and encouragement for persons who want to fish and want some place to keep their boats.
"All progressive countries are taking care of their infrastructure. Every progressive country in the world is trying to improve the facilities that its citizens call upon for service, the roadways and the ports that its citizens use. The Bahamas is no different. We want to make sure that The Bahamas not just comes into the 21st century but progresses and moves along 21st century development," he added.
The contract includes demolition of the existing wooden dock and reconstruction to accommodate vehicular traffic. The work is expected to be completed in four months.