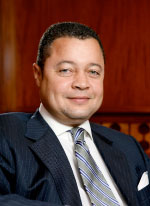 Shareholders and Customers Assured of Bank's Adherence to Sound and Prudent Banking Practices
In an annual end of year message BOB Managing Director Paul McWeeney has assured the Bahamian bank's customers and its 4,000-plus shareholders that the bank has a robust capital position matched by adherence to "sound banking principles that are consistently tested and validated by internal and external authorities to ensure the highest standards of prudence."
Mr. McWeeney pointed to the bank's growth over its brief 25-year history and the positive returns it has earned for investors since going public.
"Since our establishment as Bank of The Bahamas in 1988 and becoming a publicly-held institution six years later, BOB has paid out more than $50 million in dividends, including more than $26 million to the majority shareholder, the Government of The Bahamas," said Mr. McWeeney. "In 25 years of existence, we have gone from one branch to 13, from one island to seven, from handling checking and savings accounts to being a full service financial institution with products that range from a junior savings account a parent can open with as little as $10 to managing pension funds and trust assets for high net worth clients. We have gone from $90 million in assets at launch in November 1988 to $890 million in assets as of June 30, 2013. We have gone from a few dozen staff to a full-time complement of 358 with more than 20 additional temporary employees. "
The Bank chief's message also assured customers and shareholders that BOB's governance structure relating to lending practices is not only based on sound banking principles but creates a careful and deliberate segregation between the executive and administrative arm of the bank, on the one hand, and credit risk management and loan approvals, on the other.
"In order to comply with international accounting standards and regulatory requirements past due loans go through various classifications including so-called 'write-offs' for accounting purposes only," Mr. McWeeney said. "However, such accounting classifications do not mean that delinquent customers have their indebtedness forgiven. On the contrary, collection and enforcement actions, which are totally separate from accounting classifications, are not affected — they continue aggressively against delinquent customers. Our practices in this regard are consistent with industry norms and regulatory requirements. In fact, our capital position exceeds that required by regulators.
"BOB is proud of its record of support of Bahamian businesses and consumers over the years, in good times and in bad. Although these are difficult times for many, including banks, BOB remains steadfast in its commitment to its customers but only within the framework of sound and prudent banking policies and practices."
The managing director of the bank that has won international recognition seven times – more than any other bank – used the message to thank customers, staff and the wider community.
"BOB takes this opportunity to thank our many customers throughout The Bahamas for their loyalty and support in 2013 and to thank our staff for their determination to be first in customer service and reliability," said Mr. McWeeney. "We look forward to 2014 with renewed confidence and optimism as we continue in our role serving our growing customer base with pride and sharing our results with thousands who do business with or hold shares in BOB."