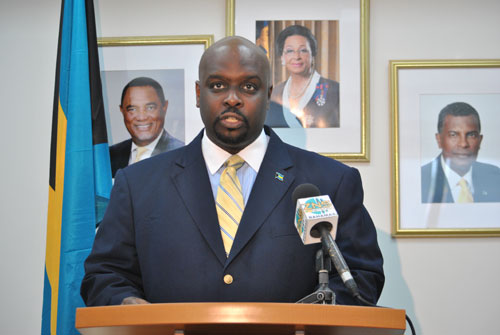 Nassau, Bahamas – The following is a statement by The Hon. Kenred M.A. Dorsett, M.P., Minister of Environment & Housing's Update on Petroleum Legislation delivered on 8th October, 2014:
The Government has completed the preparation of a new Petroleum Act and a suite of regulations designed to guide and govern oil exploration in The Bahamas as an integral part of the recently announced National Energy Policy. This new legislative package will also include the legislative framework for a Sovereign Wealth Fund to ensure that in the event oil is discovered in commercially viable quantities, the wealth that will accrue to the nation as a result will be invested, managed and conserved in the most optimal way for present and future generations of Bahamians.
The new legislative package will be introduced to Parliament as soon as it meets following the short recess.
In the meantime, it should be clearly understood that the new legislative regime will ensure that exploration for oil in The Bahamas will be undertaken in a safe and environmentally responsible manner, consistent with international standards, best practices and the most up-to-date risk management, health and safety protocols.
It goes without saying, that if oil is discovered in commercially viable quantities in The Bahamas, it will have a massively transformative effect on our fortunes as a people. It will allow us to deliver on our commitment to eliminate the fiscal deficit while at the same time providing a platform for the systematic reduction in the cost of electricity on a sustained basis for consumers both residential and commercial. Longer term, it will vastly increase the wealth of the nation through the creation of a flourishing new industrial sector and a sovereign wealth fund, one that has the potential of enriching the nation beyond its imagination.
But first things first : it's obviously important that we not count our chickens before they are hatched. That's why it is so important that we put in place a new, modernized, up-to-date legislative framework, of the kind I am foreshadowing today, one that will enable us to find out, through licensed and properly regulated exploration, just what we have in the way of petroleum resources. If as a result of such exploration, we do discover oil in commercially significant quantities, we will already have put in place a legislative regime to ensure that we make the best of it in an environmentally responsible way and in a way that will ensure the best possible financial returns for our nation.
The Bahamian people should be rest assured, that our government remains resolute to its commitment to actualizing those objectives.