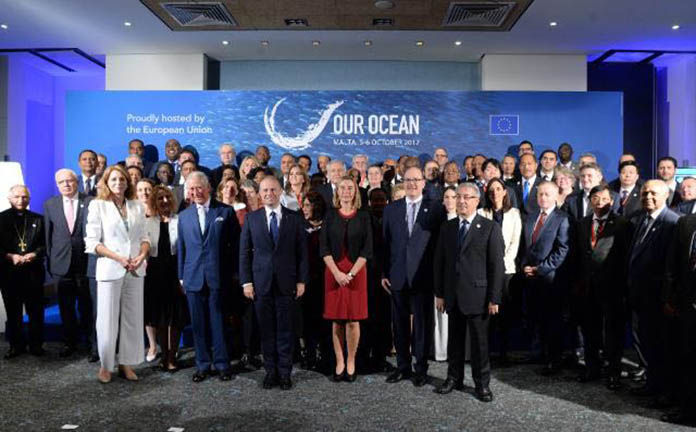 Bahamas Minister of the Environment & Housing, the Hon. Romauld Ferreira, recently attended the European Union's Fourth "Our Oceans" Conference, held October 5 and 6 in Valletta, Malta. Hundreds of marine resource representatives from member countries met to improve and strengthen ocean resource security and policies.
Keynote speakers at the international event were His Royal Highness, Charles, Prince of Wales, and His Serene Highness, Prince Albert II of Monaco, both of whom spoke on the importance of marine life protection. Minister Ferreira spoke on The Bahamas' contribution to protection of ocean ecologies.
Minister Ferreira said: "We congratulate all governments that participated in this exercise to finalize this Coral Reef Life Declaration, as it solidifies our commitment to the protection of our global commons. It highlights our interconnectedness and interdependence. More importantly, it displays our dedication to a generation unborn, who, without such a declaration, may not know the wonders and abundant offerings of these great global commons.
"In The Bahamas, coral reefs play a pivotal role in the continued viability of The Bahamas. They are the foundation of our unique fisheries, a tantalizer to our tourists and a first line of defense against ever-frequent storms and hurricanes. Currently, we are halfway to meeting our commitment to protect at least 20% of our near shore environment by 2020. The goal is in sight, as we are making steady progress towards the target."
The conference delivered unprecedented results in drawing support for a commitment to protecting the ocean environment and managing its conservation.
Mr. Ferreira stated: "We are however, doing our part, not only through the declaration of Marine Protected Areas, but through the replanting of endangered reefs and the creation of artificial ones. Because life below water also depends on life above water, we must extend our obligations, not only to the conservation of marine environments, but to end practices that lead to ocean acidification, climate change and other harmful impacts to the Earth's oceans.
"The Coral Reef Sculpture Garden, commissioned by The Bahamas Reef Environment Educational Foundation, in 2014, is the country's first underwater living art gallery. It is home to the largest underwater sculpture in the world and now home to thousands of coral. It is a stunning example of a multipurpose hub for the marine environment. Time is of the essence. I again applaud the finalization of this declaration, but admonish us not to become complacent, there is much that remains undone.
"The outcome of the 4th 'Our Ocean' conference stands to prove that when the world comes together for a common cause, much can be accomplished in peace.
"I understand that over 200 commitments were tabled by different countries. There were a combination of 87 NGOs, foundations, research institutes and international organizations that also made commitments.
"This year's conference has mobilized an impressive involvement of at least 100 commitments from corporate leaders and the business community, to dedicate a budget to conserving our ocean. Hopefully, the next conference will yield more obligations as we all share the same water that covers 75 percent of the Earth," said Minister Ferreira.