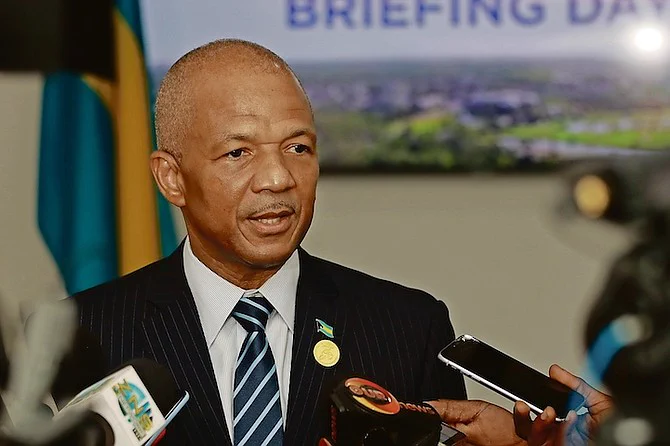 NASSAU| Prime Minister Philip Brave Davis has made a bold and strategic move in his recent cabinet shuffle by renewing his confidence in Minister of State for the Office of the Prime Minister, Myles Laroda, who has been entrusted with a slew of key government corporations and entities, including the Water and Sewerage Corporation (WSC), the Bridge Authority, the Antiquities, Monuments, and Museums Corporation, as well as government relations with major telecommunications companies like the Bahamas Telecommunications Company (BTC), Aliv, and Cable Bahamas.
This decision has raised eyebrows and sparked discussions, especially among political opponents who have taken to social media to question the Prime Minister's faith in Laroda. The most notable change in Laroda's ministerial portfolio was the transfer of the National Insurance Board (NIB) to Alfred Sears, who now serves as Minister of Immigration and National Insurance.
However, insiders claim that Prime Minister Davis's decision to assign Laroda to oversee these key government entities and maintain relations with major private
telecommunications companies reflects his unwavering trust in Laroda's capabilities.
This move underscores the Prime Minister's strategic vision for the country and his desire to have a competent and reliable figure in these crucial positions.
Laroda, who represents the Pinewood constituency, came into the political spotlight after the Progressive Liberal Party's resounding victory in the 2021 General Election.
His appointment as Minister of State for the Office of the Prime Minister was seen as a testament to his party's confidence in his abilities to serve at the highest levels of government.
Before his entry into frontline politics, Laroda had a notable stint as the Chairman of the Public Disclosure Commission, further adding to his qualifications and experience in government service.
Now, with the weight of multiple vital government portfolios on his shoulders, Laroda – whose portfolio also includes the Disaster Reconstruction Authority – faces a pivotal role in shaping the future of The Bahamas, both in terms of disaster management and the telecommunications sector.
The success of these endeavors will undoubtedly be closely watched by both supporters and skeptics alike as Laroda strives to prove his mettle in these crucial positions.