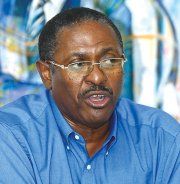 Bradley B. Roberts
National Chairman
Progressive Liberal Party
Three days after being publicly invited to a briefing by the Prime Minister on the critically important issue of Baha Mar and its impact on the economy and Bahamian workers, Minnis remains a no show.
The government has petitioned the Supreme Court in the public interest and national sovereignty, but Minnis remains a no show, hidden in the tall grasses pretending to care about the impacted workers when his actions indicate clearly that he is hoping to use the Baha Mar bankruptcy filing and the uncertainty facing thousands of workers to advance his personal political agenda. This is disgraceful.
Even former cabinet minister Brent Symonette rose above the political fray to defend the sovereign of The Bahamas and the national dignity of the Bahamian people against abuse and disrespect; Brent Symonette got it right. Minnis, who is the leader of the FNM should be setting this type of statesman-like example. At the very least, he should have demonstrated some level of interest in the work of the government on behalf of the Bahamian people to bring resolution to this national issue. Dr. Minnis is reminded that he is a SERVANT OF THE PEOPLE, part of the government, holds a constitutional position and has a responsibility to the people of the Bahamas who pay his salary.
The current commercial dispute between three private entities contractually obligated to each other is highly unfortunate, but governments must intervene to protect the public interest.
Dr. Minnis is well advised to abandon his silly and selfish political game and make an attempt to at least appear to be interested in the well being of Bahamians.
A word to the wise is sufficient.