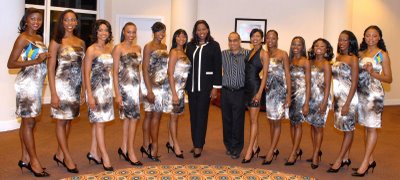 Historic beauties – The participants of the first-ever Miss Global Bahamas Beauty Pageant pose after their official launch with Regional Director and President for Miss Global Bahamas, Desiree Tynes-Moss and International President Lachau Ramchandani (centre). (Photo by Donald Knowles for MGB)
Nassau, The Bahamas…Fresh from their island hopping tour of historic San Salvador and the pink sand beach of Harbour Island, the stunning ladies of the first-ever Miss Global Bahamas beauty pageant will be making waves this weekend when they participate in the highly anticipated swimsuit competition.
The sizzling event will take place this Sunday at 2pm poolside at the Wyndham Nassau Resort and Crystal Palace Casino on Cable Beach under the patronage of the Hon. Desmond Bannister.
"The judges certainly have an arduous task ahead of them with these amazing, confident, intelligent and beautiful Bahamian women who are already ambassadors for their communities in New Providence and the islands they hail from such as San Salvador, Crooked Island and Grand Bahama," said Desiree Tynes-Moss, president and regional director of the pageant. "Already, the ladies have been busy with a day of beauty, a trip to San Salvador as the special guests of the Miss and Teen pageant there, a photo shoot on Harbour Island and attending the launch of E-Life Magazine among other workshops and sessions."
"Something we reiterate with Miss Global Bahamas is that we are not your typical pageant," added Mrs. Tynes-Moss during the launch that was attended by international chairman for Miss Global International, Lachau Ramchandani. "We consider ourselves an organization that focuses more on leadership, personality and character rather than physical beauty."
Mr. Ramchandani, a respected veteran in the industry noted that The Bahamas has a lot to offer the pageant world and the caliber of ladies who have entered the competition are truly worthy of wearing the international title.
"I am very pleased to be a guest in this wonderful country and pleased with what I have seen so far in this pageant," he said. "In all my years of pageantry, I must commend the Miss Global Bahamas Organization for treating me to one of the best launches I have ever seen. The participants are making history as the first contestants and I admonish each of them to give their best."
For more information and tickets call 242-525-3122, e-mail
info@missglobalbahamas.com
or visit their Facebook page.