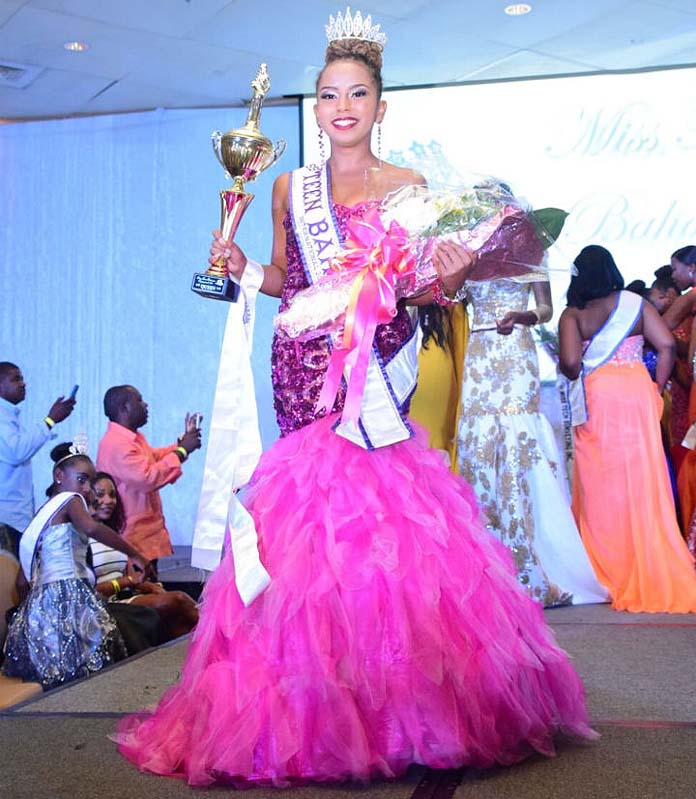 Nassau, Bahamas – The Bahamas has a new teen Queen. Ariannah Wells-Bain was crowned Miss Teen Bahamas International (MTBI) Sunday night after impressing the crowd with her unshakeable stage presence and unmatched wit.
Ariannah made a lasting impression on the judges and the audience with her short stature and unique – for local pageantry – Rastafarian background. The high school student, whose platform was "Overcoming Discrimination", walked away with a handful of trophies and a scholarship to Liberty University worth $90,000.
"I am absolutely thrilled, exhilarated and excited, I can't wait to begin my reign" said Ariannah. "I am humbled by the faith all of the judges had in me, and i'm already excited to represent my country, myself and God. It honestly feels as though my soul has prospered through the 12-week programme. Everything that Mr. Smith has done for me, it's astounding."
Runner-up, Lezlia Jones, received a $30,000 scholarship to Liberty University, and second place winner Marechan Burrows received $20,000. All of the other young ladies also received partial scholarships.
Anthony Smith, MTBI's National Director, said the academic partnership with Liberty University has added a priceless component to the pageant. Not only has MTBI become an enrichment programme that teaches the young ladies makeup application, self-defense, counseling, fitness, communication, videography – and more – but, it has now become an important gateway to tertiary education for the young ladies.
"MTBI attracts a specific type of lady," said Mr. Smith. "Some of these young women were already leaders in their schools and communities, and some of the others chose the enrichment programme because they want to become leaders.
"So, what's unique about this year is this academic partnership with Liberty University, which has given us scholarships that are retroactive to our 2014 and 2015 pageant contestants. This Says a lot about the impression we've made on them with this enrichment programme."
Ariannah said the scholarship to Liberty University has eased at least one worry for her family.
"That's the most exciting part," she said. "I've taken such a burden off my mother. It's incredible for me to know I was able to help with my own education. She is happy, and that makes me happy."
The field of 18 young women was an impressive mix of public school, private school and college students. The talent and brilliance of each of the ladies gave the judges a tough two days of scoring. The private judges' interview accounted for 40 percent of the overall score for each contestant, while evening gown, fitness, and fashion couture each accounted for 20 percent.
"This year was exceptional. A lot of the young ladies who participated in this year's pageant demonstrated their capacity for research and retention of information on their various platforms," said Mr. Smith. "They were all very prepared to perform on pageant night, and it was a difficult decision the judges had to make. All the young ladies came highly qualified, and all were very impressive."
Ariannah will go on to represent The Bahamas in Jacksonville, Florida this summer at the Miss Teen International competition; meanwhile, Lezlia will represent The Bahamas at Miss Teenager Universe in Guatemala. Marechan, and special category winners Duranique Minus and Ashley Thompson, will represent The Bahamas at Miss World's Perfect Jr. Teen.
"I'm most looking forward to sharing my platform on an international level," said Ariannah. "Now that I have the opportunity to take it to an international arena, it will be so exciting to share my knowledge, and gain knowledge from other people."