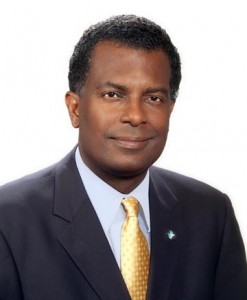 STATEMENT BY FRED MITCHELL MP
PLP CANDIDATE FOR FOX HILL
ON FNM SCANDAL AD
25th May 2012

FOR IMMEDIATE RELEASE
My attorney Raynard Rigby of Gibson Rigby and Co on my behalf issued two letters today: one to the Utilities Regulatory Competition Authority (URCA) and the other to the Broadcasting Corporation of The Bahamas with regard to a paid political ad being run by the Free National Movement which makes reference to a so called "visa scandal" in the context of an attack on alleged corruption by the PLP and posts my picture in the ad.  The clear innuendo is that I was involved in a corrupt enterprise as a Minister of the government and a Member of Parliament.  This is false and defamatory.  Political campaigning cannot be used as a cover to repeat untested untrue and unsubstantiated hearsay to defame me.  If the matter is not resolved to my satisfaction by the Broadcasting Corporation a writ will follow.
This again smacks of desperation by the FNM in a sinking campaign.
The material terms of the letter to both entities appear below:
"We have been instructed to formally lodge a complaint to URCA in respect of a flagrant breach and violation of the Content Regulation: Code of Practice for Content Regulation (ECS 06/2012) particularly Part 6, Clauses 6.8 (1) and (8).
It is our view that the subject ad, which is being broadcasted on ZNS TV 13 (Broadcasting Capital of The Bahamas) as well as on the FNM's website (www.fnm.2012.org) and presumably being broadcast on other stations, will and has caused injury to the reputation of our client in that it seeks to infer or suggest that he was involved in the alleged visa scandal at the Ministry of Foreign Affairs.
Please also note that the subject of the said visa scandal is a matter before the Supreme Court in Action 2012/CLE/gen/00200 (Frederick A. Mitchell vs. Dorothea Lefleur) which was commenced by our client arising from statements made by the Hon. Dion Foulkes in the Senate and the subsequent tabling of a Wikileaks cable.
It is our considered view that the allegation surrounding the visa scandal is a matter before the Supreme Court and therefore the FNM is not competent to make this a subject of any political commentary. Additionally and perhaps more fundamentally, we deem the ad in its entirety, but more so as it relates to our client, to be foul of Clause 6.8 as aforesaid in that it defames our client who is a candidate in the upcoming elections.
Given the urgency of the matter, we expect URCA will move swiftly to compel its Licensees to prevent any further broadcast of the ad and will confirm the ad is foul of its Code."