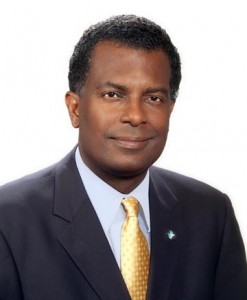 STATEMENT BY FRED MITCHELL MP
FOX HILL (THE PROGRESSIVE LIBERAL PARTY)
RESPONDING TO THE PRIME MINISTER'S GOLDEN GATES RALLY 8TH MARCH 2012
FOR IMMEDIATE RELEASE
Hubert Ingraham continues to trash talk at rallies instead of dealing with the issue of his failure to keep the people of this country employed and in a crime free environment.  His performance in Golden Gates tonight has earned him a new prizing in clowning. He must answer the question to the Bahamian people why he is not as he promised hanging his head in shame because of his inability to bring criminals to trial on a speedy basis.  He must answer for the scandal of tens of millions of over spending on roads, the scandal of Mona Vie at Customs, the scandal of paying for sand to be put on Saunders Beach.  His term includes one story after the next of the abuse of government power, government money for raw political purposes: chief amongst these giving a monopoly to his cronies at the Port in Nassau and selling BTC at a fire sale price while putting Bahamians workers on the bread line.  He should be ashamed of himself.
The Prime Minister talked at length about corruption in the PLP and said that his government is scandal free and clean, seemingly oblivious to the road works fiasco that is around $93 million over budget and rank with conflicts of interest and gross mismanagement.
The Prime Minister continued to blame the road works fiasco on the PLP to deflect from his government's failure to properly manage this important project. The FNM accepts no responsibility for this failure.
He misled the Bahamian people on the performance bond in connection of Associated Asphalt.
The Prime Minister continued to blame the PLP for the industrial action of customs and immigration even though his government was clearly at fault. He is not accountable or responsible for the actions of his government.
The Prime Minister bragged about 4,000 BEC customers whose lights have been turned off. The Prime Minister and his government through their mismanagement of the economy caused thousands of households to live without electricity for years. This is clearly an election ploy as many of those BEC customers are still unemployed.
The National Security Minister continues to mislead the Bahamian people on Urban Renewal. The fact is that serious crimes between 2002 and 2007 were reduced by 30%, but have increased by 19% between 2007 and 2011. The fact is the empirical data shows that Urban Renewal was a qualified success and the PLP is committed to introducing Urban Renewal 2.0 upon our return to government in short order.
Minister Tommy Turnquest must accept that murders have doubled under his watch and the FNM government has fundamentally failed to keep Bahamians safe.