Bahamians are looking for a plan to move the Bahamas FORWARD!!!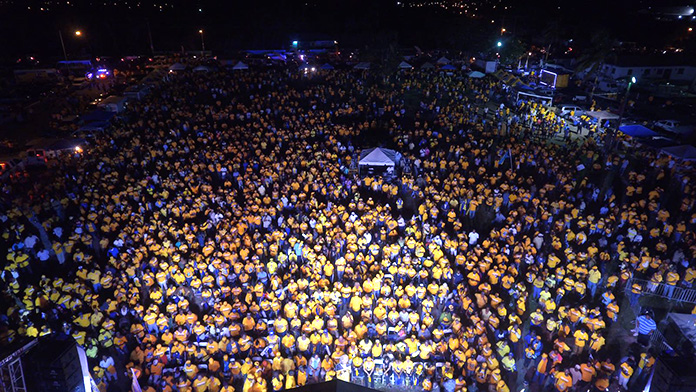 Nassau, Bahamas – The Progressive Liberal Party mounted its most powerful election campaign rally last night in the constituency of Golden Gates where PLP leaders rolled out their plans for the future of the Bahamas.
The crowd for the first time in the nation's history swelled all around the park, overflowing to service roads on the west and east. Many of the rally-goers had to park on the large BFM space on Carmichael Road, which was two blocks down.
The service road in front of the Golden Gates Assembly Church was turned into a complete pedestrian way with cars all parked in the road.
Rose Mortimer told Bahamas Press, "This is the first time in all my life living in this area I have seen Carmichael Road come to a standstill. This is incredible tonight!"
Young voter Rhonda Bastian said, "It is clear we Bahamians are prepared to continue with the PLP which has clearly articulated its vision to move the country forward with growth and development into the future. As a Bahamian, this is what I have hoped for and this is what I see is being offered by the PLP."
Today is the advance polling where service men and woman of the armed forces vote along with campaign workers and political leaders. That polling is taking place at the Kendal G. L. Isaacs Gym and on Grand Bahama.
This morning photos began streaming from the Bahamas' Embassy in Beijing, China where students and Bahamians living in that part of the world are also voting to elect the next government of the Bahamas.
More than 182,000 persons have registered to vote.
We report yinner decide!