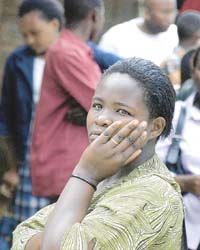 A single mother searching for work. (file photo)
LISTEN CLICK TO THIS REMINDER:
Nassau, Bahamas: More casual workers will be sent home this week Bahamas Press has learned. Workers at a government agency are slated to end their contract with the government before the end of this month according to a source in the ministry of finance.
Added to the news that Domino's is now selling corn beef pizza, today 40 workers at Pizza Hut joined the unemployment line, as the pizza restaurant closed its doors to the public. And just when person thought it was getting better and Hotel Union President Roy Colebrooke said their will be no more layoffs in his industry, workers at the Habourside Resort, a subsidiary of Atlantis fired 140 additional workers on Monday.
To sum up the current axing at the resort, Atlantis reportedly told members of the media that  800 plus persons were fired up to last week Thursday, however since that downsizing exercise Kerzner did dismiss an additional 140 employees. Now today [Tuesday] officials at the resort told members of the media that the hotel had also fired 10% of its foreign workers. Hmmmm,  sound like over 1,000 workers to us.
But breaking news coming out of Grand Bahamas tonight reveals the pending closure of a major hotel on that island. Bahamas Press has learned that managers at the property have already been advised that a decision to close the hotel can be confirmed by the owners any day now.
Now in accessing all this economic turmoil in the country, it is clear as to why the Hotel Corporation was established by the Pindling government. Turbulent times in the tourism industry warrants government's intervention. And if government fails to step in and save JOBS in the hotel sector [as Christie and Ingraham failed to do to with Royal Oasis workers] a domino economic fallout in the country evident.
Bahamas Press has also learned that there is NO decision by the Prime Minister to secure jobs at that if the property if it fails. Sources confirm it is most likely that the government will step in and buy that property. A clear sign that NONE OF THE CURRENT POLITICAL LEADERS OF THE BAHAMAS HAS THE HEART FOR THE PEOPLE AS SIR LYNDEN PINDLING DID.