Scores attend Resorts World Bimini Career Fair for Biminites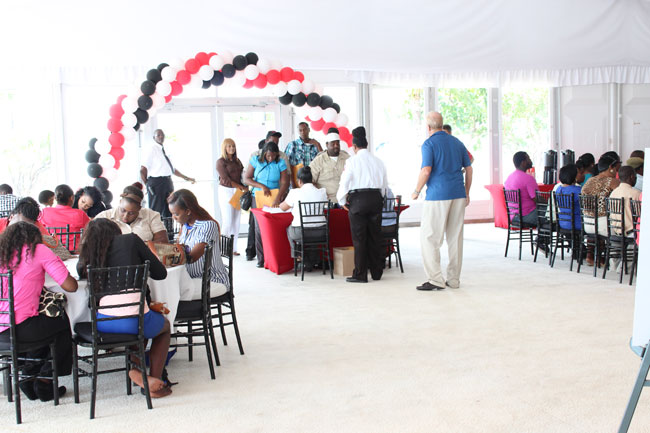 Hundreds of young Bahamians are headed back to work!
Bimini, Bahamas – Dozens of Biminites were hired on the spot after successfully interviewing for jobs being offered during a Resorts World Bimini Career Fair held on the island on Wednesday. Scores of Biminites began cuing as early as 7:30 a.m. for a chance to fill one of the dozens of job openings being offered by the Resort (RWB). Organizers are describing the Career Fair as a tremendous success, based on the turnout and the caliber of persons seeking employment.
RWB Director of Human Resources Dave Winslow said the career fair was necessary to fill existing positions and those that will come on stream as the company expands. He said the company is dedicated to helping the community and providing opportunities for the citizens of Bimini.
"We have a number of positions in the existing operation that are vacant and we are looking to hire persons ahead of time in preparation for the opening of the jetty and hotel, so they can be fully trained to invite the many more guests that are going to come to our resort," he said. "We thought this would be a great opportunity to invite Biminites to preview the jobs available, so we set this up so we could hire folks right on the spot. The quality of the persons that are coming are high caliber professionals, and we are welcoming many of them onto our team." Also on hand for the Career Fair was the Local Government Chief Councilor, Lloyd Edgecombe who was impressed by the staging of the fair, and even more excited about the turn out.
"I am seeing a lot of new faces of people trying to get into the job market, people who I never thought would be a part of this," he said. "The entire community is excited about what Resorts World is doing in Bimini. I see a lot of young people from the community who are excited and ready to get to work. I see a lot of young women here with young children to feed. This is putting money into people's pocket. This is important to us as Biminites. This is only the beginning of what's to come."
Community activist Vincent Ellis said the career fair is one of the best things that has ever happened to Bimini. "We need this. Resorts World is doing a great thing here in Bimini. This turn out says to me that the majority of the people support this project. We can't rely on doubt talks, we have to go with what we have. We have plenty people in Bimini to feed, plenty people need jobs all over this Commonwealth, so we say let's go ahead." The drive to hire more staff in preparation for major expansion at the Resort saw many openings for well-paying careers that will likely bring many Biminites back home, and keep others from leaving in the first instance.
Hundreds of additional jobs will be created in the months ahead with the openings of The Port at Resorts World Bimini this summer, and a 325-room luxury boutique hotel in late fall. Applicants will be vying for positions in the Hotel Front Office, Housekeeping, Slots, Casino Credit, Food & Beverage Service, Culinary, Marketing, Marina, Transportation and Security departments.
The career fair is expected to build on RWB's contribution to the island's economy, as well as national employment figures.
Resorts World Bimini is operated by the Genting Group, a global company, founded in 1965, and the world's largest Destination Resorts operator. Genting has Resorts World-branded properties in Asia, Europe, North America and on all four oceans through 43% ownership of Norwegian Cruise Line and Star Cruises brands. The company has a combined market capitalization of $45 billion and employs more than 50,000 people worldwide.
More information about Resorts World Bimini is available at www.rwbimini.com