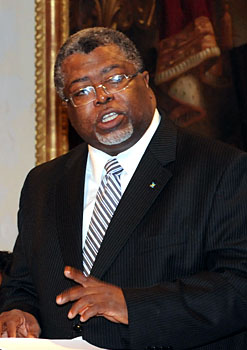 <<< Chief Justice Michael Barnett.
Nassau, Bahamas — More pressure is being applied for the PM to reconsider his appointment of Sir Michael Barnett as Chief Justice. Several more prominent senior attorneys have joined the growing chorus of attorneys who have voiced their disapproval of Ingraham's choice – especially considering the close relationship he maintains with Barnett.
Those senior attorneys plan to send a strong letter of petition to the office of the Prime Minister on a number of concerns the appointment has raised, as well as voice their concerns about the poor relationship between the Chief Justice and a few senior justices – one of whom does not even speak to Mr. Barnett.
According to the senior lawyers, who wish to remain anonymous for fear of reprisal, Barnett is also facing many challenges on the bench, because of "matters that he dealt with while a partner at Graham Thompson".
These matters have become a great concern now that he sits as "chief over all the other Senior Justices."
The Attorneys believe that the situation will continue to deteriorate, especially at the appellate level, since the personalities basically oppose many of the Chief Justice's decision and still question whether Barnett should have been appointed over at least two senior justices, when Ingraham moved him from the Cabinet as Attorney General.
Since Barnett's appointment on August 24th, many including the Bahamas Bar Association and the Bahamas Chamber of Commerce have criticized the move and have asked both the Prime Minister and Sir Michael to reconsider the move.