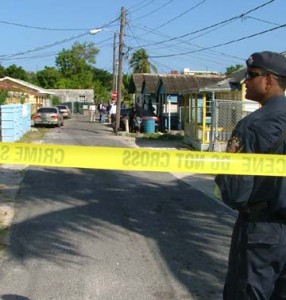 Nassau, Bahamas — The mother of a two year old is dead this morning following another bloodbath in the capital.
Bahamas Press is reporting murder # 224 since 2009 following the double shooting of two women in the Southwestern section of New Providence.
We cannot report how the women became victims in this latest incident, but we can tell you, the second victim is fighting for her life in hospital.
BP is becoming weary however, to the conditions at the A&E section of the PMH.
Upon arrival at the hospital around midnight we saw huge lines of trauma victims in boiling pain in the A&E department.
A young woman sat in A&E for 5 hours before being served with a broken hand. The young lady noted she had slip and fell just outside school around 3PM. We were told she had arrived at A&E around 4PM and was still waiting to see doctor up to midnight.
Another young man complained of having the same issue with A&E. The boy had been at PMH since 8PM awaiting doctor to attend his sprained arm which hung in a sling.
Meanwhile a young girl suffering for periods of shock was sitting outside A&E awaiting doctor. Her mother told BP, "We have been here at PMH since 6AM Wednesday morning. We ran tests and we have to come back here again in the morning. It's been a long day for us up here.
If there was anything thing good to say outside the suffering and long wait time at PMH? We can say the Hospital is indeed clean and the corridors polished. For the most part in our hour long tour the facility appeared quiet.
If the Government could find $28 Million Dollars to assist 19 wealthy FNM families in the Arawak Port Deal, why can't it find the money to fully staff A&E? Things that make ya go hmmmmm!
Last week the minister of health was rolled into A&E after taking the blue pill and was served immediately, while poor mothers lay dying in A&E!
WE NEED CHANGE! Bahamians Need NHI!