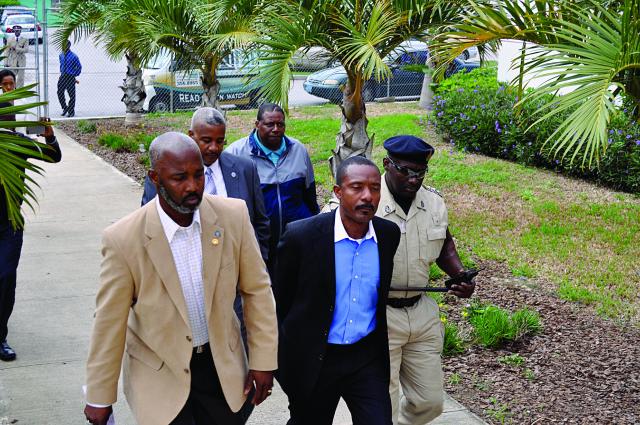 By Jerry Roker
For Bahamas Press
Mr. Smith pleaded not guilty to the charge of indecent assault, which allegedly took place during December 2013. It has been alleged that he indecently exposed himself to a female colleague. Despite this charge, Mr. Smith remains in his position, and avails himself of every opportunity to rail against his bosses.
I certainly support any activity of the PSA to seek out what's best for it's members in terms of salaries and benefits and working conditions. This is a no-brainer. But oftentimes, Mr. Smith's utterances are disrespectful in tone and content. He performs and behaves as a politician as opposed to a Chairman who is simply seeking what is best for his colleagues.
A substantial aside to Mr. Smith's continuing as Chairman, is, bearing in mind the seriousness of the allegations made against him, isn't it curious that those opposed to Prime Minister Christie's PLP government, chief among them the FNM, have been silent as to whether or not Mr. Smith ought to have resigned?
In my view, for an interdicted Police Officer to be allowed to continue in such an important position, speaks volumes not only about those who have no difficulty with him doing so, but also Mr. Smith himself. It also speaks loudly to the duplicitous behavior of those opposed to Mr. Christie. The media for the most part have given Mr. Smith a free pass.
This is shameful!
I believe, it was, and still is, in the public interest for Mr. Smith to resign or otherwise be removed from office. As Minister of National Security, how do you seriously negotiate with an interdicted officer? In my view, it definitely sends a wrong message.
I am not mindful that Mr. Smith has not been convicted of any offence, and under our system of jurisprudence, he is innocent until such time as he is brought guilty.
When one weights the behavior and spoken words of Mr. Smith, it is rather easy to determine that he has a political agenda, and it is his right to possess such an agenda. Unfortunately, it seems to take precedence over the legitimate interest of those he represents. Could it be that he wishes to follow the path of one of his colleagues who is positioning himself to be nominated as a candidate for the FNM in the next general elections? They sound and behave so much alike!
Mr. Smith in my view, has shown much disrespect for senior police officers, in particular those responsible for its day to day management. Even his remarks that are directed toward the political directorate are sometimes rude and condescending.
It is my information that Mr. Smith's interdiction was given by the Governor General under the Police Act. And while he is Interdicted, he still remains under the disciplinary action of the Royal Bahamas Police Force. If Mr. Smith remains as chairman of the PSA his position in office would create a conflict of interest to the alleged criminal offence he faces.
Our men and women who serve the public must serve with integrity and, the message must be clear to the public that no one is above the law. If he is allowed to lead the Police Staff Association while a criminal charge is pending against him, it would send the wrong message to our communities.
It seems therefore, that the proper thing is for Mr. Smith to resign.