Summer camp ends and Basketball campy set to open
Mount Moriah Youth Summer Camp held its closing ceremony on Thursday July 26th, 2012. Students displayed  their  talents by   singing, dancing and reciting  poetry,  all expressing gratitude to Hon. Arnold Forbes Member of Parliament for the Mount Moriah Constituency.  The camp catered to students from the ages of 6  to 14. Young campers ages 6 to 7 sang the song  "Thanks," ages  11  to 12 paid tributes to Mr. Forbes, while  others students performed pieces about determination and letting their light shine.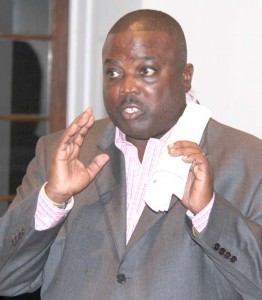 In addition to students   displaying their talents,  students  showcased items  made during the course of the camp.  Students   took to the stage displaying  fashion designer  pieces made using newspaper. Items made were  hats, hand bags and  head bands.  Jewelry and Piggy Banks were made from plastic water bottles, picture frames, pillows and many other creative craft items were on display  that were made by enthusiastic campers.  The top two campers from each group  received awards for outstanding participation, while others received certificates for participation.
Mr. Forbes, thanks the campers for attending the camp and noted that this is a tradition that will continue every year in Mt. Moriah. He encouraged campers to take the experience and use what they have learnt to better themselves. He also noted that he working on his next camp for the community which is a basketball camp, headed by Keno Watson. The camp he mentioned will start in a weeks time. In closing he thanked the dedicated team of teachers headed by Mrs. Taneko Adams, and encouraged students to remain safe during the remainder of their summer break.