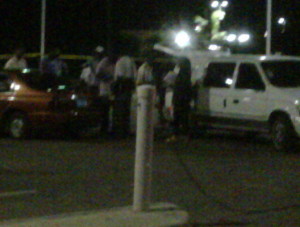 Nassau, Bahamas – Blood is rushing down the drains of the Bahamas once again as murder #151 is recoded since 2009.
Bahamian Police have just rapped up investigations into a shooting, which has left a father dead and a baby in intensive care following what sources describe as a drive by.
BP has learned a 30-year-old, Raymond Bastian, and his baby were shot in the parking lot of Solomon's Supercenter. Bastian is known to police we are told. The victim was discovered dead on the scene while his 3-month-old baby lay still nearby.
The baby we can now say is in critical condition at the PMH.
Again, this latest incident climbs the murder counts in the Bahamas to 151 victims since 2009. It is also important to not only one man has been convicted of murder during that same period.