Saturday Morning BP published this story on www.bahamaspress.com. By Saturday afternoon, this same article was being read verbatim on ZNS 13TV Evening News…Could Someone at ZNS PLEASE TELL BP HOW DID THAT HAPPEN?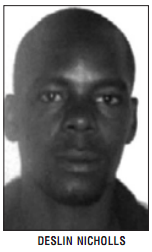 Notorious Murder Suspect Gunned Down in Kemp Road…
Nassau, Bahamas — Bahamas Press is reporting an unreported murder by the press this morning, which happened in the Kemp Road community.
This morning gunman opened fired on, Randino "Dingy" Pratt, a resident of Fox Hill, as he stood outside a bar.
Sources tell us the altercation took place early this morning as a gun battle ensued in the area between two groups of men. BP agents were also advised two other men were shot during the shootout.
Pratt was shot multiple times about the body where he succumbed to his injuries. He is recorded as the 110th murdered victim in the country.
Now get this, Pratt was known to police and is known for his notorious murder and criminal incidents right here in the capital.
Back in 2005 Pratt and Deslin Nicholls [Nicolus], both with Haitian heritage, were onboard a Haitian vessel intercepted by Defence Force officers stationed just off Matthew Town, Inagua.
In 2002, police wanted the men for the murder of then 30-year-old, Kirk Ferguson. It is believed both suspects fled to Haiti and were never tracked by detectives.
We can also report Ferguson's murder was as a result of a retaliation killing in the Fox Hill community for Pratt's mother and brother [Rosemary Bennett-Wright and her seven-year old son Jakeel on March 6th, 2005]. Both were shot dead inside their home on Adderley Street in Fox Hill.
Ferguson was executed in board daylight near the Sandilands Primary School as the gang/turf war erupted following Pratt's mother and son murder turning; Fox Hill and the country into a terror boiling pot.
Twenty-nine-year-old Nicholls aka "Limbo" became the 75th murdered victim on the country's record. He was gunned down in his car just outside his family home at Florida Court near Balfour Avenue. He too was known to police for a plethora of crimes in the country.
The Bible is right, if you live by the sword, you shall die by it. Amen!