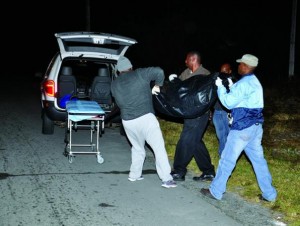 Man gunned down outside his home
Nassau, Bahamas — Bahamas press is reporting murder number four in the Market Street area last night.
Reports tell us 27-year-old, Clyde McKenzie, better known as CJ was shot dead just behind his home in Riley Close last evening. We understand the victim suffered a fatal shot to the head as his shooter riddled his body with a high-powered weapon.
The deceased was taken to hospital via private vehicle but was pronounced dead upon arrival.
Police are investigating this latest homicide.
Officers of the Southwestern Division continue to remove illegal weapons from the streets of New Providence.
On Monday 5th March, 2012 around 10:30 am officers of the Southwestern Division acting on information went to a bushy area off Gladstone Road where they uncovered a handgun along with a large quantity of ammunition. No one was taken into custody. Active police investigations continue.
CRIME TIP: As a citizen you can assist in the fight against crime. Become acquainted with your neighbours and be the eyes and ears for each other. Establish an active neighbourhood watch and create a bond through such service.
An active neighbourhood watch will definitely reduce crime and improve your community.