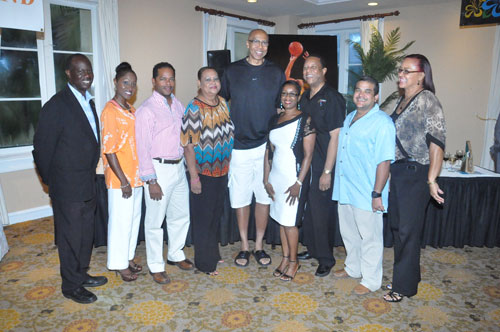 LUCAYA, Grand Bahama – The smooth green surface of the Reef Golf Course is playing host to a major golf tournament set to be an annual event.
The first Mychal "Sweet Bells" Thompson / Fred Higgs Golf Challenge got underway on July 22nd, attracting a large number of competitors including former outstanding Bahamian basketball players and company executives.
The event is being sponsored by the Ministry of Tourism and the Bahamas Golf Federation along with the support of the Bahamas Basketball Federation.
The tournament was officially opened during a cocktail reception at the Grand Lucayan Resort on Monday, and the two-day classic will close out on Wednesday.
Former National Basketball Association star, Mychal "Sweet Bells" Thompson was in Grand Bahama for the opening.
The 59 year old retired superstar played both the power forward and centre positions for the Portland Trail Blazers and the Los Angeles Lakers.
The Trail Blazers made the Nassau born athlete their number one pick in the 1978 NBA Draft, making him the first foreign player to be drafted first overall.
He helped the Lakers win back to back titles in 1987 and 1988 before retiring in 1991. He is currently listed as the Lakers radio colour commentator.
The name Fred "Freddie" Higgs has become synonymous with golf not just in The Bahamas but throughout the Caribbean region. The late Mr. Higgs served in a number of administrative positions in the golfing community and had a deep passion for the sport.