NEMA to ship US Donated emergency supplies to Inagua Warehouse –
SHIPS BOUGHT BY LAST ADMINISTRATION PROVING TO BE OUR GREATEST ASSETS IN MOVING GOODS AHEAD OF STORM!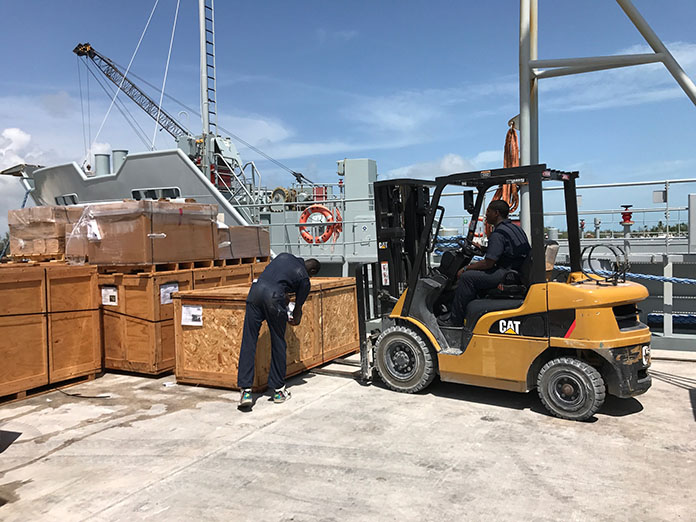 NASSAU, The Bahamas – The Government of the Commonwealth of The Bahamas and its National Emergency Management Agency, NEMA were pleased to accept an assortment of emergency relief equipment from the Government of the United States of America, through the United States Embassy in Nassau, and the United States Northern Command.
The Items, which were delivered to The Bahamas via eight 40ft containers, are to equip the recently constructed Emergency Relief Warehouse, in Matthew Town, Great Inagua.
The Emergency Relief Warehouse, which was officially handed over to The Bahamas Government, on June 22, 2017, is also a gift from the Government of the Unites States, constructed at a cost of $1.8 million.
The equipment valued at an estimated $600,000, include the following:-
– 5kw and 10kw generators
– Berthing Kits
– Cots
– Water containers
– Fuel Containers
– Blankets
– Tool box and kit
– Power cords
– Pallet stacker
– Water Purification tablets
– Radio and flash light
– Shower / Shelter combo
– Tents
– Ripe saws/ Circular saws, maintenance tool, blades
– Folding chairs & tables
– Water canteens
– Field toilets
– Portable floodlights
– Soap/ toilet paper
Captain Stephen Russell, director of NEMA confirmed that the equipment and supplies would be transported to Inagua warehouse within the coming days via the HMBS Lawrence Major, the Royal Bahamas Defence Force's Roll on/Roll off vessel.
This vessel has made an invaluable contribution to the logistics and transportation efforts in support of the National Disaster Response and Recovery programme since its commissioning in 2015, immediately in the aftermath of Hurricane Joaquin.
"The equipment are earmarked for the islands of the southern Bahamas, namely Inagua, Mayaguana, Acklins, Crooked Island, and southern Long Island. And is aimed at strengthening the preparedness and response capabilities of the communities in those island prior to, during and in the aftermath of any emergencies." Capt Russell said.
The delivery of the equipment to the Mathew Town warehouse will further strengthen the National Emergency Management Agency's Strategic Emergency Relief Warehouse programme, with warehouses that are equipped in the northern, central and southern Bahamas.
"The aim is to ensure that emergency equipment are readily available, to provide a timely response in the aftermath of an emergency or disaster," Capt Russell said.
The spokesperson from the U.S. Embassy said, "The cooperation between the US and The Bahamas runs deep.
"The United States proudly donates over $600K in disaster relief supplies to the Bahamas to fill the three U.S. -donated disaster relief warehouses in Nassau, Freeport, and Great Iangua. These supplies will be used to assist the National Emergency Management Agency as they prepare for storms or other natural disasters in The Bahamas and the region."