Institutions fails again in disasters weeks apart!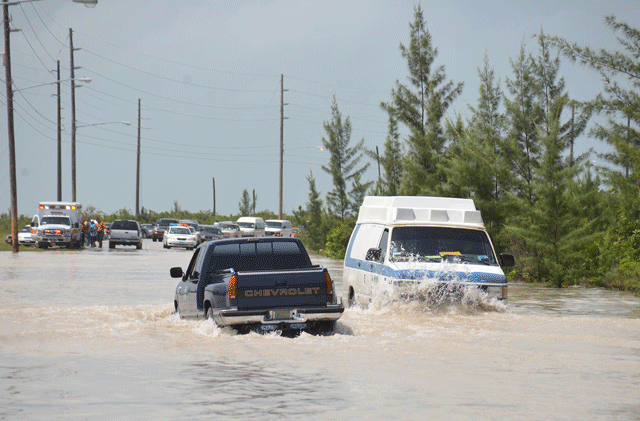 Natural Disaster out of Eight Mile Rock over the weekend!

Nassau, Bahamas — Bahamas Press is concerned, deeply concerned that within just weeks apart of natural disasters, the office of NEMA, the MET OFFICE and ZNS again failed to warn and keep current Bahamians on incidents occurring around the country.
Yesterday, after heavy showers in the Eight Mile Rock area of Grand Bahama, an entire community was cut off and left with massive flooding.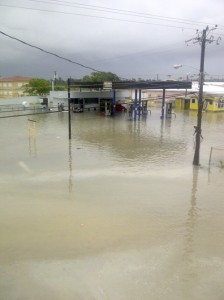 Even after a 24-hour period, NEMA was nowhere to be found and the WUTLESS JACKASS Broadcasters at the National Television Station, did not possess the wisdom to alert residents.
Rather than report on the developments and alert the country of the disaster, ZNS led its wutless evening report with a LIE about a Gang-related initiation, which began its circulation on Facebook by the damn crazy sister of Zhivargo Laing, "so-called" Dr Margo Seymour. Strangely, ZNS fueled the LIE, while the people in the community of Eight Mile Rock had to seek higher ground and were impeded from leaving their Community by rising water.
What's worse is that some residents were trapped on the Warren J. Levarity Highway, unable to head into Freeport and unable to return to Eight Mile Rock. Stuck between a rock and a hard place.
Bahamas Press is calling on the Christie Government to move with haste to correct the paralyzing issues at ZNS, the MET OFFICE and NEMA. The Muppet Show a.k.a [ZNS) is making the Bahamas the laughing stock of the region.
How in the hell you can have a standing EMERGENCY COMMITTEE, but when a national emergency occurs, ya cannot find Jerry Roker in town.
Someone must answer fa dat! What WUTLESSNESS JACKASSNESS IS DIS?
We report yinner decide!