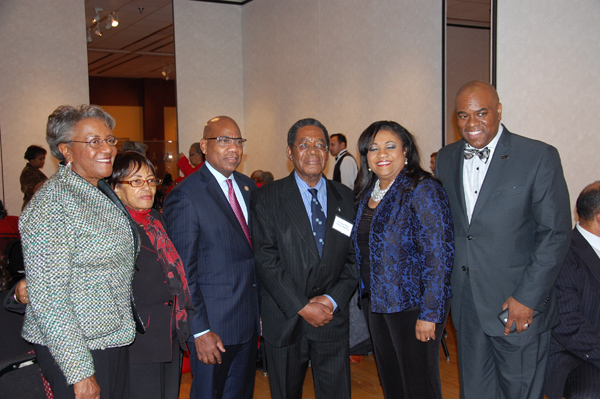 By Oswald Brown
WASHINGTON, D.C. — His Excellency Dr. Eugene G. Newry, Bahamas Ambassador to the United States, his wife Mrs. Francoise Torchon Newry and the Hon. Paulette Zonicle, Bahamas Consul General to Washington, D.C., were among the special guests who attended the Annual Christmas Concert of the world-renowned Morgan State University Choir in the university's Carl J. Murphy Fine Arts Center in Baltimore, Maryland, on Sunday, December 15.
Held in the James H. and Louise Gilliam Concert Hall, the concert attracted an estimated 2,000 patrons, who were treated to a magnificent two-hour performance by the 125-member choir, under the direction of Eric Conway, DMA, Chairperson of the Department of Fine Arts. They were supported by a 36-member orchestra.
Dr. Newry and Consul General Zonicle along with other special guests, including a number of elected officials and a group of educators from South Africa, were introduced to the audience during intermission by Dr. David Wilson, Morgan State's President.
In his welcome remarks in the concert program, Dr. Wilson noted that Morgan State was "honored to present this annual holiday tradition to the Morgan community and the city of Baltimore as a showcase of some of the world's greatest musicians and performers, but moreover, as a prelude to what we hope will be an enjoyable holiday season for you and your loved ones."
"Members of the Morgan Choir have earned international acclaim as ambassadors for our university and for the state of Maryland," Dr. Wilson said. "They have performed in some of the most recognizable concert halls and venues throughout Italy, Australia, Russia and other great nations. But the choir recently enjoyed one of the most timeless moments of its long and laudable history earlier this month, receiving distinct honor of being called upon to offer tribute to one of the world's greatest humanitarians, Nelson Mandela."
Dr. Wilson added: "The scholar performers you will see and hear this evening this week performed at the United States' national memorial service for Nelson Mandela at the National Cathedral, a fitting performance for a choir which serenaded South Africa's greatest hero on his 90th birthday just five years ago while touring the nation."
Following the concert, the special guests attended a reception with members of the university's faculty in the Fine Arts Center dining area, where Ambassador Newry and Consul General Zonicle met members of the faculty and some of the other special guests, including former Congressman Kweisi Mfume, who represented Maryland's 7th Congressional District for five terms, serving in the 100th through 104th Congress.
Mr. Mfume, who is also a former President/CEO of the National Association for the Advancement of Colored People (NAACP), is currently Chairman of the Board of Morgan State.