Newspapers have become fire hazard for store owners as hundreds pile up unsold
Nassau, Bahamas — Some people don't believe us when we say that the daily dinos are in trouble and the tabloids are sinking quickly behind.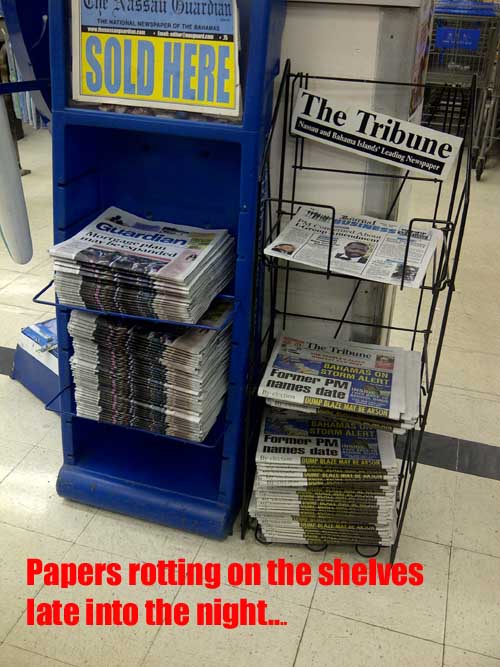 Newspapers are not selling in the country and everyone can see the evidence. If you go to Cable Beach SuperValue you will see not one Nassau Guardian was sold at that store up to 8PM last night and 80% of the Tribune remained on the shelves.
SuperValue Cable Beach is one of the busiest stores in all of western New Providence.
This is not good news.
What is even worse is this fact that the media collectively online cannot match the explosive number of newsreaders online.
Bahamas Press has more than 5,203 friends and some 7,048 additional subscribers on its main BP facebook page alone. And on its fan page more than 7,000 plus additional followers. NO other news media in the Bahamas can boast such numbers.
BP's main online website has more than half a million daily global readers which pushes BP as the leading and most widely read medium in the country.
One newspaper vendor told BP, "I have slashed my paper purchases from 200 copies daily to less than 50 papers a day. Something has gone terribly wrong in the lame stream media and people are just not buying them.
Early this week BP reported how a lawyer in the office of the former Prime Minister was arraigned for allegedly "THIEFIN" some $280,000 from a client account. Not one newspaper carried the arraignment. But when a former PLP was being question of the same, the news was plastered for days in the wutless media.
"They have coloured reports, gone cockeyed in the art of journalism and red in their bias reports. This is why sales have plummeted! They failed to believe in Bahamians just like the FNM and the people can see it. They have refused to tell news as it is. They are carrying the message of the FNM. If Ingraham screams victimization, so does the newspapers. That is why they are suffering. The Bahamian people are not buying into it and if they continue they will be crushed by the competition now building online.
"I read my news from Bahamas Press or on Facebook through Crossfire and other social media and online pages. I know when and where lights are off or when or where a robbery took place. I cannot get that kind of information in the newspapers. And many time what is reported online never reaches the newspaper so for me it is a waste of time buying them 'dutty' rag sheet," a politico told BP.
We reporting yinner decide!