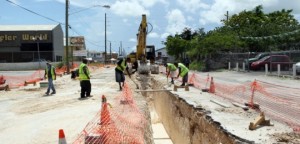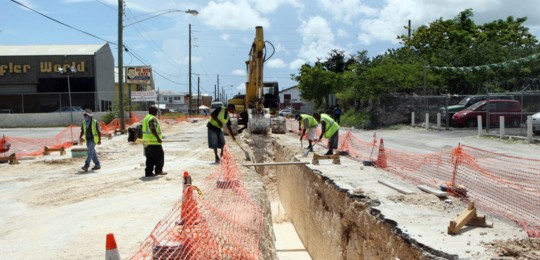 Nassau, Bahamas – The Ministry of Public Works and Transport announces that from Vesey to Cockburn Streets on Baillou Hill Road has been paved and Baillou Hill Road from Wulff Road heading north toward St. Agnes Anglican Church is open to two lanes of NORTHBOUND TRAFFIC ONLY. The Ministry requests motorists to follow posted road signs particularly those prohibiting southbound movements on Baillou Hill Road.
The Ministry provided an update on the progress of construction on corridors in the New Providence Road Improvement Project during a briefing Wednesday.
"The public is advised that in approximately two to three weeks paving will take place between Cockburn Street and School Lane. At this time both the Dillett Street (Meeting Street) and School Lane junction will be re-opened to traffic," said Shenique Albury, environmental specialist in the Project Execution Unit.
The contractor is currently installing drainage and service laterals between School Lane and Duke Street, which is the northern limit of this corridor, said Ms. Albury. " It is anticipated that prior to the Christmas season northbound traffic only will be allowed up to Duke Street on Baillou Hill Road," she added.
On Saturday, November 5, the junction of Baillou Hill/Wulff Roads, along with Baillou Hill Road between Baker Street and the Wulff Road junction will be closed to allow final asphalt paving works. Motorists should follow the diversion signs. This closure is expected to last for one day
Work continues on Market Street south with focus on the junction of Market Street and Robinson Road.  In three weeks this junction is expected to be paved and opened to traffic.  Sidewalks and kerbing are presently being installed in areas that have already been paved on Market Street south. Traffic signals are also being installed at several junctions.
Roadworks are also taking place on Market Street north between Wulff Road and Brougham Street where drainage and service laterals are being installed.
Efforts have increased to complete the construction of the roundabout at Independence Drive. "Work on the approaches to the roundabout and the outside lane is currently taking place. Paving in these areas will take place next week after which work will begin on the inner lane of the roundabout," said Ms. Albury.  It is expected that the entire roundabout will be completed by the end of the third week in November.
The Ministry thanks the public for its cooperation and continued patience during road construction works and apologises for any inconvenience caused as they seek to build and improve the infrastructure and transportation network on the island of New Providence.  The Ministry encourages all road users to exercise caution and to follow the diversion signs in place especially while driving in areas of active construction.
Contact the Ministry's Hotline on 302-9700, email at publicworks@bahamas.gov.bs. or search " Road Improvement" on Facebook for more information.