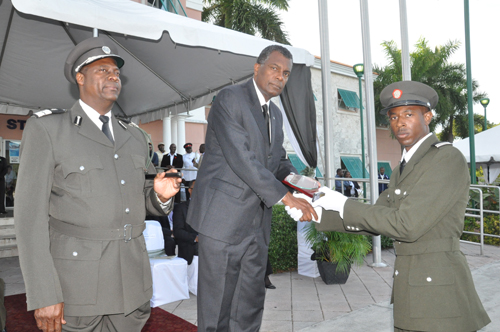 FREEPORT, Grand Bahama – Minister of Foreign Affairs and Immigration, the Hon. Frederick Mitchell said Thursday that he was deeply concerned about the talk of immigration roundups.
Mr. Mitchell made it clear that that "there is no such creature" and that the Department of Immigration has as it always has done, immigration checks on a daily basis.
"There was nothing unusual about Saturday's events save for the fact that someone decided to spin propaganda to discredit what is being done on a daily basis.
"All of us must be careful not to be hornswoggled and psychologically manipulated by video images that do not tell the truth," the Minister stated.
His comments came as he addressed a graduating ceremony for Class of 2014, Squad A at the Gerald A. Bartlett Complex in Freeport, Grand Bahama on Thursday evening.
Ten new Recruits, who underwent some four months of training in Grand Bahama joined the ranks of the Bahamas Immigration Department. Only one day prior, a similar ceremony was conducted in New Providence where some forty young Bahamians were welcomed into the Department. The graduation ceremony in Freeport is believed to be a first for that island and the first outside of New Providence.
Focusing on the latest Immigration exercise as it related to children, the Foreign Affairs and Immigration Minister said that the truth is those children were abandoned by their parents and paroled to a responsible adult within two hours of their being secured by Immigration Officers.
"That is the truth. But there is an axiom: never let the truth interfere with a good story. Or don't bore me with the facts; I have made up mind," the Minister suggested.
Further, he informed that there are five children who still await the return of a responsible adult, but in the meantime their care is superintended by the Department of Social Services.
Additionally, he pointed out that the third set of children who were in fact housed at the Detention Centre, some 35 of them, came with their parents from Haiti on boats stopped on the seas over the past weeks.
"They had no previous known connection to The Bahamas. They were repatriated to Haiti on Tuesday," he advised.
Continuing in his remarks to a large gathering attending the colourful ceremony, serenaded by the the Royal Bahamas Police Force Band, Mr. Mitchell added that the practical fact is that parents who enter the country illegally and are detained may protest their children being kept in separate facilities from them.
"So some accommodation may have to be made for the children in the Detention Centre to stay with their parents, given the sensitivities some have about children in the Detention Centre," he said.
Mr. Mitchell also admitted speaking with his friend Mr. Joe Darville of the Grand Bahama Human Rights Association.
"I just wanted to make sure we are on the same page. This is not 1986 and the Department of Immigration carried out no raid or roundup.
"In any event, I am hoping that that nomenclature is banned forever from our lexicon. I said in another context that we round up animals not human beings," he said.
He also pointed out that from the time he became Minister of Foreign Affairs and Immigration, he said that enforcement of Immigration rules would be consistent and continuous.
"I did not need to be involved in the Department's operation matters. My role is a policy one. I have stuck to that. Each day since I have been Minister, Immigration across the country, has been enforcing the law. So what happened on Saturday last was no extraordinary event.
"Those who seek to make it that are perpetrating a falsehood. The checks will continue. That is what Immigration does," the Minister stated.
Mr. Mitchell also expressed some concerned about the pace of immigration processing at the Lynden Pindling International Airport.
"This is becoming a vexing problem for the tourism product and we have attempted over the past year to fix this problem but it remains stubbornly persistent. I am examining again methodologies to deal with this in the short term.
"In the long term we are asking the Government to invest in new border management control systems which will make processing faster at the border and introduce biometrics and Interpol checks. However, we as always are cognizant of the shortage of resources," he stated.
The Member of Parliament for the Fox Hill Constituency, Mr. Mitchell also made it clear that the Immigration Policies are simple, clear and in the best interest of every citizen of The Bahamas and every resident who lives here.
"There are for the peace and good order of The Bahamas. So I urge everyone, friend and foe alike to take a deep breath, slow down, be calm and simply comply with the rules. Life is good believe me.
"1st November was not an end but a beginning. If there are issues that arise you all know that you have the most accessible government in the world. We are as democratic as a drawbridge, accessible and consultative to a fault," he stated.
Mr. Mitchell also took the opportunity to remind the public that they have also indicated that they would wish to introduce a national identity card.
The Minister also expressed that in the new realities, immigration is no longer a simple Bahamianization proposition but it is still Bahamians first.
"It is our job to monitor compliance with our immigration regulations. We will be vigilant. In today's environment, security is paramount for the state and our international partners need to know that we have best practices in security arrangements. Part of this is who belongs to The Bahamas and who has the right to live here," he said.
Further, he advised that Grand Bahama has peculiar problems and that it has become a staging area for people from South America and the Far East and Africa to enter the United States using safe houses on the island.
He said special operations are conducted by the Department in this city to put a stop to this, and there will be operations of a covert nature to catch these criminals.
"The laws are going to be toughened and the regulations are going to be stricter. If you want a safer Bahamas that is part of the larger price that we have to pay. We all pledge to work together with civil society so that we understand the processes and our thinking," he stated.
He also reminded the new recruits that Immigration will be called upon by our citizens to ameliorate the ill effects of so many things, one of which are the issues of the world economy.
"There is a limited amount that we can do but we have an obligation to act within our sphere of competency.
"That means that where people from the north of us come masquerading as visitors but being gainfully employed as property managers, as bankers and as salesmen, we must ensure that the rules apply to them as they do to gardeners, maids and handymen.
"The criticism that you will receive will not always be logical but you must hold your head and work in a directed and focused manner. You will hear all sorts of drivel. Your integrity will be attacked but hold your head," he stated.