Nygard Extends Offer to Neighbour/ Rival Bacon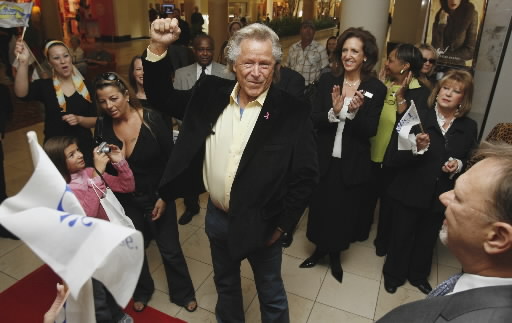 Nassau, Bahamas – Peter Nygard took to the national airwaves Thursday, April 11, 2013 and extended an olive branch to his neighbour and fierce rival Louis Bacon.  Despite the fact that Bacon has used military grade speaker weapons against Nygard and his guests, and changed the layout of the entrance to Nygard Cay resulting in flooding during heavy rains, Nygard says he and Bacon should work together to save Clifton Bay for the Bahamian people.
Appearing on Immediate Response radio talk show at the Broadcasting Corporation of the Bahamas, Nygard says he has made a commitment to finance the rebuilding of the dock at Clifton bay, also known as Jaws Beach, once the proper permits are in hand.  He funded a clean-up of Clifton Bay this week, following a ceremony to consecrate the grounds of Clifton, led by Smith, on Sunday past.  He also intends to assist in other efforts to preserve Clifton for Bahamians.
"Let Bacon do something meaningful for the Bahamian people," Nygard told Fayne Thompson, talk show host, declaring that he is willing to work with Bacon to protect Clifton for Bahamians and future descendants.
"I will match him dollar for dollar," said Nygard, imploring all Bahamians and investors to make sure that areas claimed for Bahamians remain that way.
Nygard says he got involved with Mr. Keod Smith's campaign to save Clifton and ensure that the sea bed remains the possession of the Bahmian people because it is a noble one.  He said he feels that people have the fight to preserve and protect areas that are important parts of their history and culture, such as the sacred spaces of the Clifton Heritage National Park.
Having been a resident of the Bahamas for some 20 years, Nygard has been an active financier of many sporting organizations, such as boxing, beach volleyball, sailing and track & field.  Bahamas Olympic Association President, Wellington Miller, appeared on Immediate Response to share several touching stories of how Nygard helped to change the lives of several young athletes who came from difficult backgrounds and who may have not received funding to support their talents otherwise.
Television sports show host Carlos Mackey called Nygard "a brother from another mother" whose color was never an issue.  He said Mr. Nygard was instrumental in helping to save his life during his battle with cancer.
Golden Knight Chris Brown attested to the many times that Nygard helped to fund training and travel for athletes such as himself and other Olympians including the Golden Girls, who have received funding from Nygard for more than ten years.  Olympic triple jumper Frank Rutherford also appeared on the show to attest to the kindness and philanthropic nature of Nygard.
He told host Thompson that ever since his Mayan dream home was burnt, he has yet to receive the permits necessary to rebuild his home.  He is ready to spend $50 million and employ 50 Bahamians for his renovation and rebuilding project.